The Man Who Stopped Both Suh And McCoy
April 5th, 2010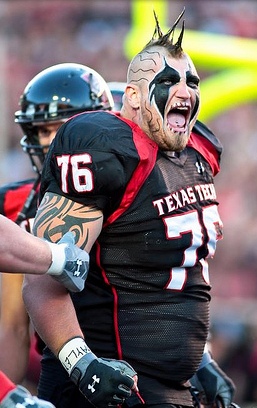 Friday night, Joe was fortunate to speak with one of the very few college football offensive linemen who played against Ndamukong Suh and Gerald McCoy multiple times but never gave up a sack to either one, Texas Tech guard Brandon Carter.
The Bucs flew Carter in for a workout last week. Carter discussed with Joe his chances to play for the Bucs, what makes Suh or McCoy so good, the virtues of face paint, and a secret conversation he had with Bucs general manager Mark Dominik.
Nebraska defensive tackle manbeast Ndamukong Suh and Oklahoma defensive tackle Gerald McCoy are widely regarded as the two best players in the 2010 draft.
Bucs fans have been drooling at the thought the Bucs may just land one of the two later this month.
There's also a possibility the Bucs could draft a guy who owned both of them: Texas Tech offensive guard Brandon Carter.
The former first-team All-Big XII offensive lineman, Carter never allowed a sack against either Suh or McCoy. Carter, who was flown in last Thursday to meet with the Bucs, last gave up a sack when he was a sophomore in 2007 to Missouri defensive end Ziggy Hood, who is now a member of the Pittsburgh Steelers.
Clearly, the Bucs like Carter, or they wouldn't have coughed up the cash to fly him in. Each NFL team is allowed to bring in 30 prospects who do not reside locally.
"The offensive line coach [Pete Mangurian], he said there were three things they like in an offensive lineman: tough, smart and love to play football," Carter told Joe from his home in Texas Friday night. "They said they can tell from the film I fit all three. They said they loved the way I played so physical and they are looking for a physical lineman.
"It was nerve-wracking [at One Buc Palace] but it was fun."
Joe was geeked to hear this, but Joe wanted to know the lowdown: Exactly what makes Suh and McCoy so good? Carter helped inform Joe.
"I think Suh was one of the greatest college defensive linemen of all time and potentially he could be one of the greatest NFL linemen of all time," Carter said. "He has the ability that most other human beings are not even close to having. He can move people at will. He is incredibly strong. I don't know him personally so I don't know if he understands the game as well as others. But he makes such great plays, smart plays. He is just physical. I think with him, his [best asset] is his strength. He's able to push linemen into the backfield or shed the block and throw the lineman into the backfield.
"That's what he did against Texas [in the Big XII championship game]. He made me look good the way he played against Texas."
Though Carter never gave up a sack against Suh, the first time the two locked horns Carter wasn't quite prepared for how physical Suh was. That changed in their second meeting.
"The first time I played against him I didn't know him and didn't know a lot about him," Carter said. "This year I prepared well and I only gave up four tackles. To me, that is a huge credit because of how hard I worked. I watched a ton of film on him. I was definitely happy when I played that well against him. "
McCoy is effective, too, just for different reasons.
"They are two totally different guys," Carter said of any comparisons between Suh and McCoy. "McCoy is quicker and faster. Whenever I watched him on film, I can tell he is such a smart player. If an offensive lineman makes a mistake, he will take advantage of it. He's one of those kind of players; he's willing to go around you.
"He has great moves and great mechanics. He is just a great technician."
Carter found out that he was brought in to One Buc Palace for two different reasons. First, the Bucs are very interested in him playing for them. Second, they wanted to know more about Suh and McCoy.
Bucs general manager "Mark Dominik, the very last question was, he asks me, 'So, you played against two of the best defensive tackles in the country. If you were drafting, who would you pick, Suh or McCoy?'" Carter said.
Carter answered Dominik's question, but he wouldn't tip off Joe what the answer was.
"That's just between me and him," Carter said. "I don't want anyone to have any hurt feelings out there. One of those guys might be a teammate next year."
Carter was more than impressed with the Bucs and gushed over the facilities at One Buc Palace,
"If you can't get something done there, you can't get it done. It's amazing," Carter said. "I love the Tampa Bay area. It's beautiful there. I would love to play there."
Carter did most of his training and preparation for the combine and pro days in Wellington and has fallen in love with Florida, which is another reason he hopes the Bucs pick him.
"Even though it was kind of chilly for Florida this winter it was still a lot warmer than Texas," Carter said. "I was running around in shorts and windows rolled down and people thought I was nuts."
In case Carter doesn't ring a bell with people, he's the guy for the Red Raiders that goes all out painting his face, and his hair, for games. It started as a prop to overcome nerves.
"It's something I always did, it pumps me up, psyche myself out," Carter said. "I am a huge history buff. All the warriors of the past when going to battle painted their faces. Seeing pictures of them, it was cool-looking in my opinion. I did it for my first start [at UTEP]. I was nervous. I went in there, put on my face paint, the fans started screaming at me and it pumped me up. I thought it was all right, let's do it again.
"I played well so it took off from there."
If the Bucs do indeed pick Suh or McCoy and Carter, with former Kansas State quarterback Josh Freeman and defensive tackle Roy Miller already on the roster, Carter said they will bring local SEC fans a taste of what Big XII football is all about.
"I still think the Big XII is the best football in the country," Carter said. "Yeah, the SEC has taken over right now, but we'll instill some Big XII football into the Bucs.
"I met with Freeman a few minutes. He was there with three other [Bucs]. We talked about our games with K-State, he's a good guy. It would be so cool to block for him. Seriously, two years ago we were opponents and now I would block for him? That would be pretty cool."