Huge Race, Cash Giveaways On Saturday
April 10th, 2010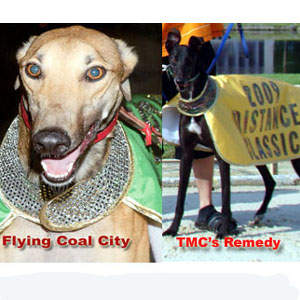 Yep, Joe gets fired up for the nation's premier greyhound races. And one of the biggest is Saturday night at
Derby Lane
in St. Petersburg.
The $100,000 Distance Classic Stakes final will cap a night of 10 $500 cash giveaways and a high-energy crowd that'll make you wonder why you don't go to Derby Lane every Saturday.
And the day of fun kicks off early with 99-cent concessions during Saturday's matinee races.
As for Saturday night's big race. Flying Coal City, winner of eight in a row, will be the favorite against last year's Distance Classic champ TMC's Remedy and the field of eight greyhounds.
Flying Coal City and TMC's Remedy had a thrilling 1-2 finish in Wednesday's semifinal at the 660-yard distance. You can watch the replay here. 
Joe will offer some wagering assistance for you here later this evening. For now, Derby Lane is open so head on over. You might even see Joe playing Texas Hold'em in the Bay area's best card room.