Rock Star Dominik Faces Sirius NFL Radio Lions
April 29th, 2010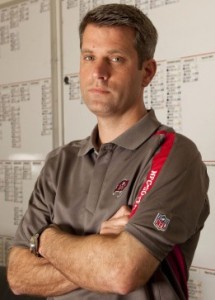 Bucs general manager Mark Dominik has truly turned into a rock star since, by all accounts (on paper), he had one of the best drafts in the NFL last week.
There doesn't seem to be a decent or respectable radio show, both locally and nationally, that Dominik hasn't appeaed on since last week's draft.
Wednesday, Dominik decided to walk into the lion's den, joining Adam Schein and Rich Gannon, co-hosts of "The Blitz" heard exclusively on Sirius NFL Radio.
Gannon is a Chucky disciple and intimate and is not overly friendly towards the Bucs, partially because the Bucs not only beat him and his Raiders in the Super Bowl, but that Derrick Brooks basically ended his career. But Gannon at least tries to be objective.
Schein may have been the most vocal critic of Dominik and the Bucs over the past year, using loud versions of either "I don't think they know what the hell they are doing," or "I don't know what the hell is going on down there."
To be blunt, the Bucs did little to dispute Schein's statements in 2009.
At one point, Schein suggested the Bucs were one of the worst organizations in the NFL and openly guffawed at Dominik's personnel moves in choosing wide receivers.
So it was more than interesting to hear Dominik choose, of all shows, to join Schein and Gannon. Joe snickered when Schein — in person, a truly kind fellow — introduced Dominik as "a friend of the radio program."
Here are some of Dominik's nuggets:
On Brian Price and Gerald McCoy:
"We stayed with our board. We took who we thought was the best player available. We brought him in and talked to him in Tampa about the possibility of picking him if he was still there at the 35th pick. We asked him what he wanted to play and he was on board with us about playing [different positions alongside Gerald McCoy].
"We are happy to have Brian Price. People on the east coast don't know much about him but people on the west coast do. 
"McCoy is a fantastic kid. You can understand how he can turn it on and be the face of the franchise. He can plug right into this defense right away. We believe [production on the defense will go up]. That's why we went back to Price. The way McCoy plays, he will get others to produce around him.
"Price has great leverage and great use of his hands. He can go full throttle and create disruption. That is what we look for, anything to collapse the pocket. With his leverage, he can play nose tackle. Now we have two legitimate inside pass rushers."
 On Arrelious Benn and Mike Williams:
"Both have size and that's what I believe in. In the west coast offense, I'm, a big believer in getting out of breaks and getting open. Ben can get yards after contact. The same thing with Mike Williams. He has big play ability. He can attack the football and dominate games. Both should have a great opportunity not just to play, but to start.
"[Williams] is competitive. He made mistakes and paid the price. He is coming in with a new clean slate. It made a lot of sense for us in the fourth round to bring him to Tampa."
On Josh Freeman:
"I expect him to deliver the ball quicker. It was good experience for him to win two of the final three games to end the season. He's excited to play with the two young guys and Sammie Stroughter and Reggie Brown."
[Joe's note:  No mention of blocking icon Michael Clayton. Hhhhmmmm?]
"[Lack of experience at receiver] is not as concerning. It's a position that a player can jump into and produce. Look at Percy Harvin. [Rookies] can be productive. Stroughter certainly was for us as a seventh rounder.
"We will just look for Freeman to have more accuracy and limit turnovers. He had some great moments last year but also had five interceptions against Carolina. He put us in position to win in six of nine games and that was important. He just needs talent around him."
On Alex Van Pelt and Greg Olson:
"Alex Van Pelt is a great hire. We have four young guys at quarterback, partially because we have Alex Van Pelt. I am looking forward to the quarterbacks taking advantage of Van Pelt.
"Olson will have his own offense. He will try to get this offense in the right direction."
On Raheem the Dream:
"Very few coaches call plays from a defensive perspective. But Raheem dialed in and the players responded with the same crew. I think he does a great job with the players. They respond to him. I think — myself included — he has learned."
On perceived money restrictions for the Bucs.
"We are able to do whatever we want in Tampa. [Budgets are] never a concern for this organization. We will build through the draft and add as we need to."
On Myron Lewis:
"I'm really excited about his ball skills. He can play with his back to the ball and turn around and make a play. I like his feet and his movement skills.'