Rick Stroud Rewriting Bucs History
April 5th, 2010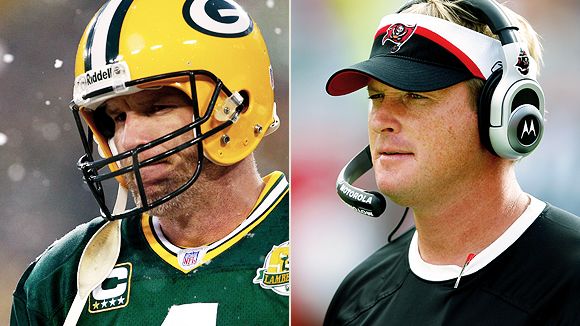 That Mad Twitterer, he's so hard to figure out.
Joe is baffled.
Does the Mad Twitterer, aka St. Pete Times beat writer Rick Stroud, really want us to believe his latest Twitter message today about Bruce Allen and Brett Favre? It does, after all, carry great historical significance for Bucs fans.
Or is this just more of the Mad Twitterer's "agent-driven speculation" that he once shamefully scolded Bucs fans for believing because it wasn't on his newspaper's Web site. 
Here's today's Tweet from Stroud, seemingly in response to Donovan McNabb getting traded to the Redskins:
Bruce Alllen would not deal a 2nd rounder to the PACKERS for Favre a few yrs ago Jets did Sorry about that. Point is he did for McNabb 
C'mon, Stroud. Tell us all. Is this fact or fiction? Joe's never heard this before, that the Bucs wouldn't give up a second-rounder for Favre back in 2008, when Chucky was aching for him and Favre went to the Jets at the 11th hour.
Hey Stroud, here's a business tip: If you know something, this is interesting. Put it on your Web site. Your editors will like the traffic.
If true, it's no wonder Chucky isn't coaching in Washington for Bruce Almighty. Chucky probably called Allen every expletive in the book for not getting the Favre deal done for a second rounder, let alone one Chucky never got to use.
Sadly, Joe doesn't know whether to believe Stroud. Frankly, because Stroud told the whole world not to believe his Twittering.
Joe can only surmise that Stroud maintains his "NFLStroud" Twitter account to satisfy an inner need he has to lie, tease and torture.