Is The End Near For Chris Hovan?
April 23rd, 2010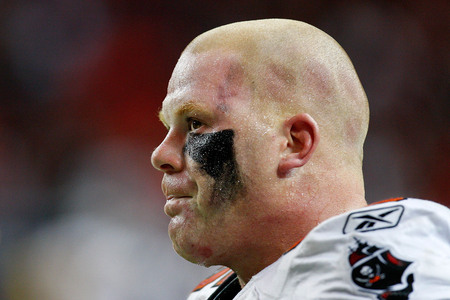 Former Bucs quarterback and JoeBucsFan.com analyst Jeff Carlson wrote a fabulous column last week that described the angst draft-day brings for so many veterans.
Draft day can spell the end of a career, especially on a rebuilding team for a well paid defensive lineman like Chris Hovan, who has 10 NFL seasons and 156 games under his belt.
As far as the Bucs are concerned, I just heard a radio commercial promoting current players that will be at the stadium for the team's draft party.  Those players that are pressured into showing up for the gig will probably be sporting smiles on their faces, but inside they will secretly take sighs of relief every time the Bucs' pick goes by and there isn't a new player at their position. Or they may have some very uncomfortable moments with fans, trying to chuckle about the great potential of the new guy on the team. 

All players know that professional sports is about competition, but the business side of the game says the higher the investment in the new guy, the more opportunity he will get — or simply be given the position.

The draft was an incredible experience as a rookie coming out of college, but every year after that, it wasn't something to get too excited about, since it could mean so much to the future of your career.  So the draft may be exciting for some, like the GM, coaches and fans, but for most of the current players around the league, there isn't all that much to look forward to this week.
Former Bucs defensive end Steve White, also a JoeBucsFan.com analyst, took a hard look at Hovan after the 2009 season. He concluded that Hovan no longer can be a viable nose tackle but could play a vital role on the 2010 Bucs. 
It's my opinion that if Hovan is to be a part of this team next year, his best option is to slim down to try to regain his quickness off the ball and vie for the undertackle position. I don't believe that he is going to be a viable nosetackle at his age and his size, and I think he still has enough in the tank to at least get some good push from the 3-technique, where he will see more one-on-one opportunities. It's pretty obvious at this point that the Bucs are going to draft a defensive tackle high in the draft. And with the progression of this year's rookie defensive tackle, Roy Miller, that will likely create a youth push up front.

Still, I think there is a role for Hovan to play on this team as a mentor for these young guys. Not only could he be a help on the field but also in the locker room and in the meeting room teaching those guys what it means to be a professional and how to take their craft seriously. Still, there are no guarantees that management will see it that way so I can't be sure that they will bring him back. I guess we will all just have to wait and see what moves are made during free agency and the draft.
Now that the Bucs have drafted Gerald McCoy, Hovan seems to be on the thinest ice of all the Bucs veterans. He's in the final year of his contract and, per the USA Today salary database, last year Hovan earned just over $3 million, tied with Ronde Barber for the fifth highest salary on the team.
Joe agrees with Steve White that Hovan would be a great guy to have in the locker room to help groom McCoy and Miller.
While Joe knows Team Glazer said "money will never be an issue," it's reasonable — even for the most Glazer-loving fans — to think cash will play a role when it comes to Hovan's future in Tampa.