Leftwich-To-Steelers Rumblings From Orlando
March 23rd, 2010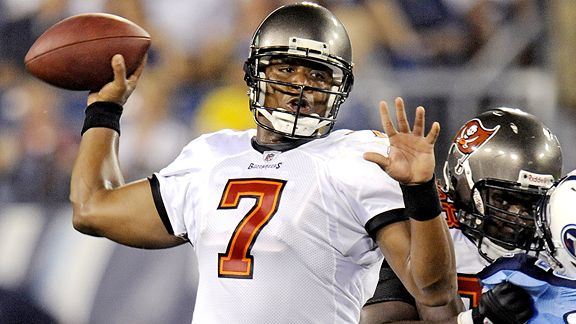 Yesterday, NFL warden commissioner Roger Goodell made ominous comments about horny Steelers Super Bowl-winning quarterback Ben Roethlisberger. Seems as though the (alleged) felonious fornicator is on the verge of being called to the principal's office and given a detention of some sort, perhaps a suspension, because he (allegedly) gets way too handsy with women.
How is this important to the Bucs? Because the Steelers may want one of the Bucs quarterbacks.
Joe has speculated before here and here that the Steelers may want back Bucs backup Byron Leftwich. In 2008, in their march to the Super Bowl in Tampa, Leftwich, then a Steelers backup, came off the bench to win a key game on the road at Washington.
Now people with better contacts than Joe are also throwing Leftwich's name out there for a potential replacement for randy Roethlisberger. Chris Mortensen, of the American sports version of the Union of Soviet Socialist Republics, BSPN, Twittered that the Steelers could bring back Leftwich.
@mortreport Steelers are prepared to go with Dixon, if necessary; not ready to jettison Ben even though their concerns are real; Maybe Leftwich.  
If the Steelers are truly interested in bring back Leftwich, Joe suggests that Bucs general manager Mark Dominik walk over to Mike Tomlin at the NFL meetings currently held in Orlando this week and whisper in his ear, "Limas Sweed."