Hope Factor Absent At Receiver
March 30th, 2010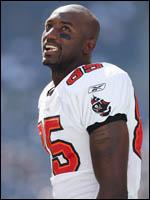 Fans of any sport turn ugly and bitter when they believe there's no hope for success entering a season.
It's just how fans roll. They need to believe.
Even the overhyped New York Yankees ranked in the bottom half of the American League in attendance from 1989 to 1992. Guess what? The Yankees had crappy teams in those years.
Joe is certain that hope for the Bucs among fans is near an all-time low. It's beyond depressing. Especially considering optimism is much easier to come by for NFL fans because of the short season and the promise a quick start can bring. 
Joe, who considers himself a diehard fan and optimist, can find real hope for the Bucs in 2010 at every position, except receiver. This assumes, of course, the Bucs draft one of the defensive tackle beasts in the first round.
But even if the Bucs snag a promising wide receiver in the second round, or trade up for one, Joe just doesn't believe that will be enough at the position to give even the most optimistic fans hope for 2010.
There's just not enough there.
Joe aches for Josh Freeman at the thought of his receiving corps. He'll need a miracle.
Mark Dominik can't take this team to training camp without more juice at wide receiver and crossing his fingers. Hope is the fans' job, not the general manger's.