Glazers Clamp Down On Dissenters
March 15th, 2010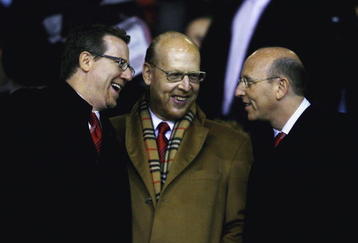 The ugliness is intensifying for Team Glazer over in England, where many Glazer-loathing fans of Manchester United are so obsessed with ousting the Bucs owners that they've seemingly forgotten their soccer team has won three consecutive championships and is now in first place in the 20-team league.
Frankly, these fans should be kissing the feet of Team Glazer for bringing them all that glory.
But growing legions of angry Manchester United fans think Team Glazer is going to destroy the organization with massive debt and has already cut back on spending on players.
The dissenters have become so vocal and widespread that Team Glazer is employing Fidel Castro-like tactics to lessen their bite, so reports The Guardian.
In response the club have already:

• Banned players from discussing the campaign in the media.

• Forbidden the in-house TV station, MUTV, from referring to the rebellion and edited questions about it from broadcasts of Ferguson's press conferences.

• Ejected a supporter from the audience of an MUTV show after he refused to remove a green-and-gold scarf (the official colors of the dissenters)

• Sacked a steward after 19 years' service for attempting to return a confiscated anti-Glazer banner to its owners.
Joe wonders whether a Bucs fan could make it through a game in Tampa wearing a "Fire Glazer" shirt.