Bull Rush: Learning Moves From All-Time Greats
March 17th, 2010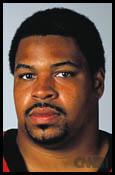 By STEVE WHITE
JoeBucsFan.com analyst
[Updated: Steve White has found video of Warren Sapp's "Ghost Move." See the end of this post for details]
Steve White spent every season of the Tony Dungy era (1996-2001) playing defensive end for the Bucs. He's spent countless hours in the film room with the likes of Warren Sapp, Rod Marinelli and more. Joe is humbled to have White, also a published author and blogger, as part of the JoeBucsFan.com team. Recently, White even contributed "Insider" NFL Draft content to ESPN.com.
Below is White's weekly Bull Rush column that breaks down all things defense with a focus on the defensive line. It's simply a can't-miss read for the hardcore Bucs fan. 
With the 2009 season over, White has broken down every Bucs defensive lineman and is now sharing his views on offseason preparation.
Today he looks at how D-linemen can improve their pass-rushing moves through film study.
Offseason Routine
Every player has his own routine during the offseason, and I think as long as it works that's all that matters. For me, the offseason was always about trying to improve my game. I always wanted to find an advantage one way or another. So for the next few weeks I will devote this column to explaining a few of the things I tried to do each year to build on my successes and cut down on my failures.
Today's focus is film study, but not just any run of the mill film study.
One way I tried to improve myself was to try to find the best pass rushers that had ever played — or were still playing — pick out their favorite moves and break them down so I could try to emulate them.
Not all pass rushers are built the same, of course. So I couldn't try to, say, learn how to do Reggie White's hump move because only a handful of defensive ends who have ever played the game were strong enough to do it the way he did. So it was always important to pick a guy who was at least some what similar in body type to try to mimic.
Here is a list of pass rushers and the moves I tried to steal from them. It's a useful list because I think any defensive lineman can learn from watching these guys. (And yes, that WAS a hint for any young Bucs defensive linemen that might read this post.)
1. Speed Rush — Derrick Thomas: Obviously there are few defensive ends who could match Thomas' blazing speed and explosion coming out of his stance. However, the point for me was never about trying to be as fast as Thomas, but instead trying to use the same technique he used before, during, and after the snap.
The one thing you notice about D.T. is that he hardly ever used anything but a rip move on his speed rushes and there is definitely a reason for that. Using a rip move allows you to stay low to the ground, keep your balance and defeat the block without having to skip a beat. Any other move, including primarily an arm-over, slows you down, gets you high and helps the offensive tackle block you.
(rip move = take your inside arm and "rip it" up and through the offensive lineman's outside arm until your hand is above your helmet.)
Watching D.T. also shows you the benefits of being decisive on a move. You hardly ever saw him get caught on a pass rush where he couldn't decide whether to keep going around the horn or come back underneath. He made a decision and went with it and most of the time he was right.
2. Long Arm — Chris Doleman: I happen to believe Chris Doleman was and is one of the most underrated pass rushers in NFL history. Perhaps the reason for this is that while he made a ton of plays, he didn't always do it with a lot of flash. His long arm move is one of the most effective yet underused pass rush moves to this day, and it's something I fully endorse for young defensive linemen.
The basic premise is this: one arm is longer than two. Meaning, if I can stab you in the middle of your chest with my arm fully extended then it's going to be hard for you to get both your hands on me. Especially if I do so with speed and leverage. A long arm combines elements of a power rush with elements of a speed rush and it gives you the ability to counter off it in countless different ways.
Doleman could damn near control a guy with that one arm when he did it then come off and sack the quarterback. The most important coaching point about the move is proper initial hand placement. The second most important coaching point is for whomever uses the move to be ready to release off it the moment they feel the offensive lineman sitting down on it (meaning they hunker down with their weight really focused forward in order to keep from being pushed back into the quarterback or his throwing lane.)
This is actually the move that I recommended to Gaines Adams his rookie year when he was struggling at the beginning of the season. For a guy with his kind of speed, I felt like he could really be deadly once he mastered that move. Unfortunately for all of us, we will never get to see his full potential.
3. Spin Move — Bruce Smith: I know people are enamored with Dwight Freeney and his spin move, but for me nobody has ever done it better than Bruce Smith. To be honest, if there was one guy I studied the most it was Smith anyway. He was the most diverse and detail-oriented pass rusher that the game has ever seen.
Whether he was at defensive tackle or defensive end you can see him setting a guy up for a spin move two plays before he even does it. He keeps threatening the speed rush and threatening the speed rush then BAM he hits that spin move and comes scot free on the way to the quarterback.
The move is all about footwork and once you get it down it becomes like second nature. Some guys ASSume that all you have to do is pirouette on your inside leg and bam you have a sack, but it just doesn't work that way.
When you watch Smith spin, the first thing you notice is the hard step he takes with his outside foot. Not only does it give the impression that he is about to try to take the corner, it also allows him to balance his weight up for the spin.
At the same time, he flashes with his hands at the offensive lineman. Whether that means he fakes a rip move or he fakes a dent move (knocking their outside hand down at the wrist) he shows enough to make the offensive lineman attack so to speak.
That's really the key to a great spin move because what you want is for the guy to be coming at you while you are spinning off of their forward momentum. If you can't get a guy coming at forward at you more than likely they will be able to sit back and block the move.
Once he got a guy coming at him, then you see Smith push off with his outside foot. And then as soon as his inside foot lands he pivots inside while whipping around with his outside arm to make sure he "clears" the offensive lineman. By clear I mean his elbow helps their momentum to keep going forward so they can't turn around and try to block him.
After that it's pretty much all she wrote, and it's a foot race to see if you can get from that point to the quarterback before he gets rid of the ball. I have found that it's an especially effective move versus play action pass because the offensive lineman comes off aggressive anyway to give the appearance of a running play.
I certainly tried to take advantage of this as a defensive end when I had the nose tackle on my side and the B-gap open.
4. The Ghost Move — Warren Sapp: Sapp had a move that we decided to get together and call the ghost move. The reason we called it the ghost move is because it happened so quickly most of the time that if you didn't have it on film to watch it in slow motion, you would probably miss what he did.
I can promise you that there are plenty of guards that he faced that probably still wake up in cold sweats having flashbacks of trying to block it. It's not a move that I have actually seen many other guys even attempt, but it was a move I kept trying at and had just a little bit of success with when I went on to play for the Jets.
Now this particular move is more for interior defensive lineman but in the right circumstance a defensive end could use it, too. The important thing in either instance is that the offensive lineman is a "puncher." Some offensive linemen like to get depth and make you come to them before there is contact. That's what we call a "soft setter". Other guys like to try to get you right now on the line and punch you to stop your momentum and we call those guys "quick setters."
The idea is to get a quick setter to punch his hands at you. Instead of reaching for them you keep your hands close together in front of you and try to chop down on their outside wrist with your inside hand as you take a step with your inside foot almost directly at them. So that they don't get any width or depth in their set.
Once you get their hand down (or even if you miss) the next part of the move is to use your outside hand to swat their outside forearm/elbow area while you turn your shoulders taking away a surface for them to hit, and you slide-step with your outside foot past the offensive lineman. The finish to the move can be either an arm over or a rip move, but the idea is to release off the move and step over with your inside foot so that your body is now decisively past the offensive lineman and you can sprint to the quarterback (provided no double team is coming).
If you think that description was confusing, you should try to watch Sapp in action doing this move.
I swear he was so fast with his hands that at times even in slow motion you would swear that he never touches the other guy but all of a sudden they are still standing there at the line while he is tearing some quarterback's head off.
The great thing about watching tape of him doing this in the offseason is you have time to mess around and try it without the pressure to win every rush that you feel during training camp or during the season.
In short, you have the opportunity to make mistakes without anybody bashing you for it, so why not try a move you haven't mastered? And truly, The Ghost Move is something that 99.9 percent of athletes won't be able to do just from watching it. You have to rep it over and over just to not make a fool out of yourself when attempting it.
And even the guy who I would say the best ever at it, Sapp, never quit working on it day after day. Of course, that is without a doubt why he continued to have success with it and why he is considered one of the best to ever play the game.
So those are the guys who I really paid the most attention to and studied during my career.
Obviously, there are plenty of other pass rushers guys might want to emulate. But there is one thing that I truly believe: the best defensive line coaches in the NFL are the guys who put you through technique drills until your tongue hangs out and are also supreme motivators. But even the best defensive line coaches generally do not teach you pass rush moves.
From my experience, by and large each guy has to come up and perfect the pass rush moves that they plan to use. And if they can't do that, then they rarely if ever show much more than flashes of potential here and there.
Watching film of the guys who were the best we have ever seen is the best way in my opinion for guys to really learn how to execute and perfect their moves. When guys become students of the game in that way, it's usually apparent in the improvement of their play.
My question for the commenters is this. Who are some of your favorite pass rushers and what move did they have that our young guys should try to emulate? I look forward to seeing your answers and addressing any other questions you might have.
Next week's post will be on how to study film of upcoming opponents in the offseason.
Video of Sapp's "Ghost Move" found
A number of people asked about Sapp's Ghost Move and I finally found a shot of it where you can almost see what he's doing. Even though its in slow motion you probably still won't catch everything he is doing with his hands but you will notice him beating the guard before the center comes over to double team him (still got a sack though)
Relevant replay starts at about 1:25 of this clip.