Bull Rush: Kyle Moore Could Be A Starter
March 5th, 2010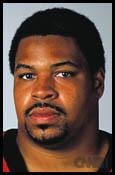 By STEVE WHITE
JoeBucsFan.com analyst
Steve White spent every season of the Tony Dungy era playing defensive end for the Bucs. He's spent countless hours in the film room with the likes of Warren Sapp, Rod Marinelli and more. Joe is humbled to have White, also a published author and blogger, as part of the JoeBucsFan.com team. Below is White's weekly Bull Rush column that breaks down all things defense. It's simply a can't-miss read for the hardcore Bucs fan. 
With the 2009 season over, White is profiling every Bucs defensive lineman and breaking down his strengths and weaknesses, as well as how he may fit in in next season.
Today he looks at Kyle Moore, Dre Moore and Michael Williams, who all played sparingly in 2009.
Kyle Moore:
If there is one guy I expect to make the biggest leap in production next year, it's Kyle Moore. Hampered by injuries most of 2009, he finally got an opportunity to play late in the season and he showed flashes in his rookie year. The Bucs used him both at left end and inside at defensive tackle some, but I think he will find a home next season just staying at end. He has all the physical tools to be a very good defensive lineman, but the one thing I believe he has to work on is transitioning to a more pro-style approach instead of a college approach to playing defensive line.
For instance, Moore didn't show a great variety of pass rush moves and the one move he seemed to rely on was an arm over/swim move.
Now everyone loves to see a guy execute a swim move when it works, but the problem is in the NFL it rarely does. And when you miss on a swim move, you generally can not counter out of it and make a secondary move. That's why the majority of winning moves you see in the NFL are some version of a rip move. Rip moves allow you to keep your balance and, if you get blocked, you still have the ability to counter out of it with a spin move or a hump move or a bull rush.
I think the Buccaneers' brass is going to give Moore the opportunity to start at left end, especially if Jimmy Wilkerson isn't re-signed or isn't healthy by the beginning of training camp. With some technique work this offseason, I think Bucs fans will be happy with what they see out of Moore in the fall.
Michael Bennett:
I liked what I saw out of Michael Bennett after we signed him off of the Seahawks' practice squad. He showed some real burst in getting off the ball and he used his hands really well. He, like most of our defensive linemen, is going to have to work on using pass rush moves because he was another guy who relyed way too heavily on a bull rush last year.
Also, because he is one of the low men on the totem pole, he is going to have to find a way to stay healthy. He missed a great opportunity for playing time being out with a toe injury after Jimmy Wilkerson got hurt. When you are a backup who wasn't a draft pick and you are third string or worse, the harsh reality in the NFL is that you can't afford to be hurt when your number is called. If he stays healthy, however, I think he can provide us some quality depth and he should be able to make the roster again next year.
Dre Moore:
Of all our defensive tackles, Dre Moore was the guy who most looked the part of a nose tackle. He is listed at 305 pounds but he certainly looks bigger on the field and he appears to be a pretty good athlete, as well. I think where he fits in on the team, if at all, will depend on what we do with the starters from last year.
I don't know if both Ryan Sims and Chris Hovan will both still be on the 2010 roster. If they are, then Dre is going to have a hard time sticking around because he is another low man on the totem pole and there is no doubt that the Bucs are going to bring in new defensive tackles, whether through the draft and or free agency. If one or both starters are gone, however, then I think Moore has a really good chance to stick around.
The best advice I could give him this offseason is just work on playing a double-team block. It would be great if we had a nose tackle that was great at pass rushing, but that will never be his primary job. The nose tackle needs to be an anchor of the defense who commands a double team and is good enough at playing them so neither the guard nor the center can come off the block and go up to a linebacker, lest the nosetackle make the play in the backfield. If Dre can model his game after a guy like the Vikings' Pat Williams, then he will be a prized commodity not just for the Bucs but for other 4-3 teams.