Dominik Interview, Draft Coverage This Evening
February 15th, 2010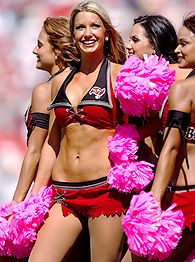 Joe's diverse and dynamic NFL Draft coverage kicks off shortly. And Bucs general manager Mark Dominik will be live on WDAE-AM 620 about 5:30 p.m with host Steve Duemig.
Of course, Joe will break down Dominik's interview and you will find the audio hear later in the lower right hand corner of the page in the "Big Dog" podcast/replay.
As for the draft coverage, NFL Draft guru Justin Pawlowski is rolling out two detailed mock draft to kickoff the coverage here on opening night.
For the next 10+ weeks, through May 1, you'll get the most Bucs-focused draft analysis around, including detailed mock draft position-by-position breakdowns, division-by-division breakdowns, team-by-team looks, audio takes, podcasts, interviews with potential top picks, guest analysis by former Bucs, and more.
And nearly every breakdown will include how moves might relate to the Bucs, even in the slightest way.
The bulk of the analysis is done Pawlowski, of WDAE-AM 620. The absolute proof of his stellar work is right here. The link takes you to Justin's subscription draft coverage in 2009. … This year it's going to be even better.
The price is $10 (or two easy payments of $5), the same as last year. And believe it or not, there wasn't one subscriber last year who complained about the product — 100 percent satisfaction!