Sears Lifting, But Not Talking
February 13th, 2010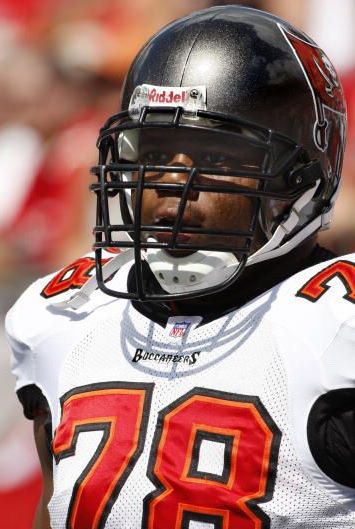 Pat "Vacation Man" Yasinskas, of BSPN.com, who Joe was pleased to chat with at the Super Bowl, is offering an update on Arron Sears.
In November, Sears returned to the Bucs out of shape after about six months in mysterious isolation. Raheem The Dream explained back then that Sears was working out to get into preseason football shape and that he was far from that fitness level. 
Per Vacation Man, Mark Dominik said Sears is regularly working out at One Buc Palace and is on track for participating in the mandatory May OTA sessions, the first of the offseason.  
Guard Arron Sears, who missed all of last season due to what the team has repeatedly referred to as a private matter, has been working out at One Buccaneer Place. That's a positive sign because Sears is working out on his own, long before the rest of the team begins offseason conditioning. Dominik said the goal is for Sears to be in football shape for mandatory workouts in May and June and have him at 100 percent for the start of training camp.
Joe is happy for Sears. Surely, if there were serious problem, Dominik wouldn't have made such a positive comment.
However, Joe remains skeptical because Sears has yet to talk to the media and the Bucs have yet to release the slightest peep about what happened to him.
Joe understands the Bucs have labeled Sears' issues a "private matter." But at some point Sears has to address it. He plays in the NFL, and he's not the last guy on the bench. He won't be hidden for long.
Joe just thinks Sears might be best served by addressing what happened sooner rather than later.  And Joe hopes the fact that there is still mystery surrounding him doesn't mean he's still battling whatever drove him to leave the team.