Dominik Says Bucs Prepared To Trade Up
February 15th, 2010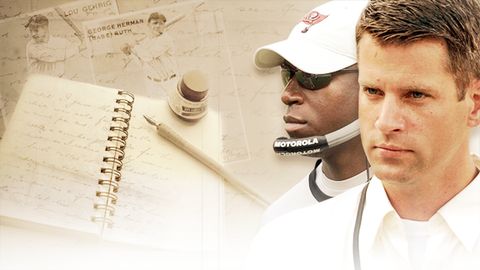 Perhaps Mark Dominik was using the dean of Tampa Bay sports radio as a smoke screen, or perhaps he was serious.
Speaking to Steve Duemig, of 620 WDAE-AM, on Monday evening, the Bucs personnel czar confidently spoke of his readiness to trade up from the No. 3 overall pick to meet the team's needs.
"We have the ability to go either direction," Dominik said. "We'll prepare to go either direction, which is a good option for Tampa Bay."
It's hard to fathom the Bucs trading up in such a deep draft, considering they are filled with holes and trading up would likely cost them a later pick. And that depth was acknowledged by Dominik in the interview, as he said he had been targeting adding picks in 2010 (Gaines Adams/Luke McCown).
Then there's the cost concern of trading up. Dominik claims that doesn't exist, yet Team Frugal surely won't be confused with the league's big spenders anytime soon.
Joe would be stunned to see the Bucs trade up. It doesn't make sense. At least not right now.