Chucky Likes Freeman; Still Suprised By Brooks
February 19th, 2010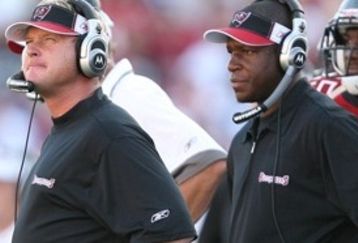 In a flimsy 14-minute chat today on BSPN.com, Chucky was his usual politically correct broadcaster self.
Asked about Josh Freeman, Chucky said he likes him. Joe's only surprised he didn't say he "loves" him. Doesn't Chucky love everyone?
Dave (LV)
The Bucs struggled this past year. What do you think of Josh Freeman? What would you do to develop him?

Jon Gruden (10:10 a.m.)
I like Freeman. I liked him at Kansas State. I think he's going to be a very good QB. He's got mobility. He's charasmatic. Stay away from the interceptions and master the offense. His upside is huge.
And what if Chucky had drafted Freeman?
If that had happened, Joe is quite certain Freeman never would have seen the field. Although Chucky surely would have told everyone how Freeman was making Brian Griese look over his shoulder.
Chucky's strongest comment in the chat was reserved for Derrick Brooks.
Tom (Kingston, Ontario)

Huge Bucs fan , thanks Jon for the great years of service. I am puzzled that Derrick Brooks first off was cut then no one picked him up. At the start of the year did you feel he was done??

Jon Gruden (10:05 a.m.)

That's still a surprise to me and a huge disappointment. Some times teams are reluctant to sign NFL veterans that have played as long as he has. He's a first ballot hall of famer. Great man. I hope you get a chance to meet him someday.
Joe, too, was suprised and disappointed that Brooks didn't suit up in 2009. With free agency two weeks away, there's still been no retirement announcement by Brooks. Perhaps he's going to have his agent make another round of calls?