Bucs Are Not Going To Trade Josh Freeman
February 21st, 2010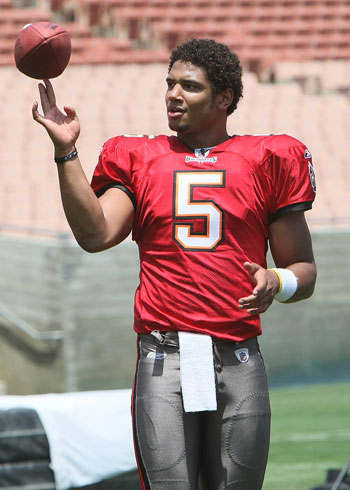 Some Bucs fan, or perhaps a Rams fan, has their quarterbacks confused and maybe their Josh's confused.
Someone Twittered Peter King of SI.com today (Joe loathes the verb "Tweets") asking if the rumors were true that the Bucs and Rams were going to swap first round draft picks.
@akaDaBigG
any validity 2 rumor that Bucs will trade QB they drafted last yr 2 Rams?

@SI_PeterKing
Makes no sense… Don't see it at all.
Joe knows that the Bucs will not trade Josh Freeman unless some team trades half their squad for him, which includes a decent quarterback. If Freeman were to be traded, Bucs general manager Mark Dominik might as well clean out his desk the moment the trade is consummated.