The Price Of Playing In The NFL
January 24th, 2010
Podcast: Play in new window | Download
Subscribe: RSS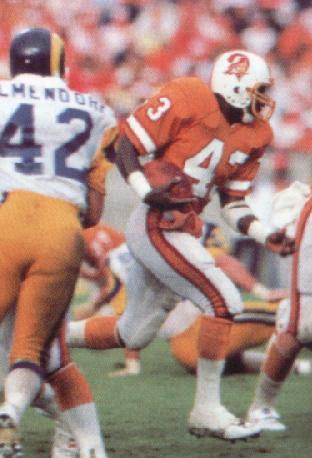 Former Bucs running back Jerry Eckwood was one of the stars of the early Bucs years.
Now, he's lucky if he remembers many of his great plays. Alan Schwarz of the New York Times details Eckwood's plight.
Eckwood, 55, suffers from dementia, likely from the concussions he received during his playing days. He's unable to take care of himself, cannot even go grocery shopping, and lives with a caretaker in Tennessee. 
A popular running back for the Buccaneers from 1979 to 1981, Eckwood is 55 but can no longer go grocery shopping, handle his checkbook or function on his own. He lives on monthly Social Security payments of $1,500, most of which pays for assisted-living aid his daughter arranged.

Lucid memories of his playing career — "I had to keep Too Tall Jones off of Doug Williams," he recalled over a rack of ribs lunch — compete with others less grounded, like the way his college coach stole his winning Publishers Clearing House sweepstakes entry. His sentences range between coherence and polysyllabic fog.

"That would be an asset as well as ours to show some compassion on her part," Eckwood said of Culverhouse, whose father, Hugh, founded the Buccaneers. "It would be a great feat accomplished when it's done and how much it's done."
Eckwood was located by Culverhouse's daughter, Gay, who in her dying days has been on a mission to try to find any former Bucs player who cannot pay medical bills resulting from injuries received from their playing days.
Eckwood was located and is receiving funds from the NFL to help pay his medical bills.
This is just a drop in the bucket in Joe's eyes. If the NFL does not set aside a specific amount of cash for former players' medical bills in the next collective bargaining agreement, it will be an outrage beyond words.
For a clip of one of Eckwood's best runs, here's a touchdown run at Chicago in the magical 1979 season.