Gaines Adams' Death May Spark NFL
January 24th, 2010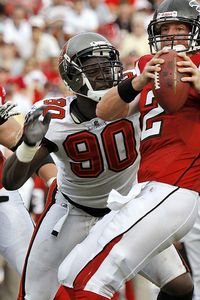 Joe once heard Joe Paterno quote from his father that to have a rich and full life, one must have an impact on others.
Joe believes that also applies in death as well.
Sad as it is was to hear of Gaines Adams' passing, his death may not be in vane. The 26-year old former Bucs first round pick died of cardiac arrest due to an enlarged heart. As a result, it now seems the NFL is discussing mandatory tests for enlarged hearts, per NFL insider Chris Mortensen of BSPN.com.
Between the time of Bears defensive end Gaines Adams' death last Sunday to his funeral Friday, the NFL's Cardiovascular Committee began discussing the possibility of subjecting all players to a heart scan called an echocardiogram, starting with potential draft picks invited to the NFL scouting combine next month.

NFLPA medical director Thomas Mayer told ESPN that the medical examiner who performed an autopsy on Adams stated the enlarged heart that led to his death could have been detected by an echocardiogram.
Sadly, very sadly, this is too late for Adams.
But if his passing moves the NFL — as well as colleges — to have mandatory tests for enlarged hearts, Adams will have a greater impact upon society than 80 percent of the people in America.