Bull Rush: Conditioning A Must For Reliable Stylez
January 13th, 2010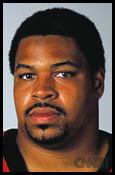 By STEVE WHITE
JoeBucsFan.com analyst
Steve White spent every season of the Tony Dungy era playing defensive end for the Bucs. He's spent countless hours in the film room with the likes of Warren Sapp, Rod Marinelli and more. Joe is humbled to have White, also a published author and blogger, as part of the JoeBucsFan.com team. Below is White's weekly Bull Rush column that breaks down all things defense. It's simply a can't-miss read for the hardcore Bucs fan.
Over the next few weeks I will profile every Bucs defensive lineman, starters first, and break down their strengths and weaknesses, as well as how I see them fitting in next season.
First up: right defensive end Greg (Stylez) White
Strengths
White is by far our best all around defensive lineman. He led the team in sacks with 6 1/2 even though he wasn't a full time starter until we traded away Gaines Adams. He also probably led the team by a long shot in hurries, barely missing on a bunch of sacks this year. But he also is very good against the run, particularly on playing head up on a tight end and defeating the block. He finished up with 43 tackles, ninth best on the team and second best on the defensive line.
White has great get-off, which allows him to pressure offensive tackles immediately. He also has some very good hands moves to get him free to sack the quarterback. About midway through the season, he added a pretty good spin move into his arsenal to go along with his hump move as counters off of his speed rush. He also has very good football instincts and rarely gets sucked in on trick plays.
He plays strong and his strength is deceptive. But you see him getting really good push on his bull rushes. White also showed some versatility after Coach Morris started running the defense, showing that he could pass rush out of a two-point stance and gets some pretty good pass drops on zone-blitz calls.
Weaknesses
The one major weakness I see in White's game is conditioning.
Now I am not saying he is lazy because I don't know his practice habits, but I am saying that he gets blowed too quickly.
I realize that going into the season he thought he would be a backup playing limited snaps, mostly on third down, but you always have to prepare to be the starter because you never know when your opportunity will come. Above and beyond that, being in condition allows you to make more plays. If you can stay in the game you have more opportunities. When you are in the game, if you are winded, then you can't pass rush to your full potential.
There were times during games when White had opportunities to get pressure on the quarterback but was just too tired to really get off the ball like he normally does and work a move. When you look at the top sack guys in the league, the one thing you notice is they hardly if ever come out of the game. If White wants to join that elite group, he is going to have to push his cardio harder than ever this off season and keep it going all next year.
A smaller quibble in my opinion is that I never really saw White take over as a leader on the field this year even though he was obviously our bell cow up front. Now I don't think everybody is suited to giving emotional speeches and all that, so that's not really what I am talking about. What I mean is when we finally started making plays on defense towards the end of the year he is a guy who I would have loved to be the one to keep everyone hyped up. Especially when it was another guy who came up big.
Not saying he did it all the time, but I didn't like seeing him just running off the field or going back to the huddle without at least celebrating with his teammates a little. Perhaps he was conserving energy, which I can understand, but sometimes emotion can give you energy you didn't think you had.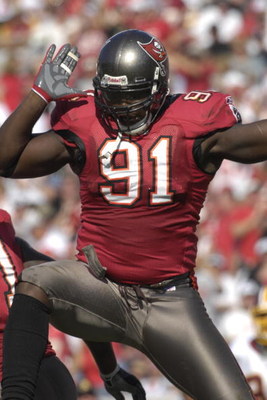 The Future
There aren't many guys on the defensive line who I would say are definitely safe this off season, but I think White is one of them.
I believe he has a year remaining on his contract and while he might not get the big time extension he is looking for yet, if he does what he needs to do he will probably cash in for 2011.
White showed this season that he can be a major contributor on this defense and really get after the quarterback. He also showed himself to be reliable and consistent, which is the true measure of a players worth in my opinion.
Of all the places we need to fill holes this offseason, I don't think right defensive end is one of those spots. And if White can get in the best shape of his life this offseasaon and stay healthy next year, I think the best is yet to come in his career.