Could Glenn Dorsey Be The Answer?
January 20th, 2010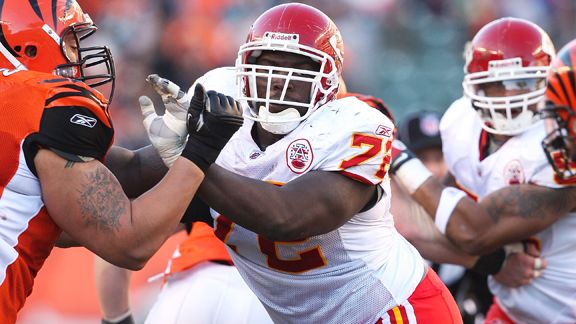 The Bucs are in dire need up help up front on the defensive side of the ball. So it's not a stretch to believe the Bucs may take a stab at a young defensive tackle who hasn't lived up to expectations.
Could Chiefs defensive tackle Glenn Dorsey be a target? eye-RAH! Kaufman of the Tampa Tribune won't dismiss it.
In a question-and-answer column on TBO.com, a reader proposed a trade for Dorsey.
Q: Draft-Ho. What are chances that Bucs might trade for Glenn Dorsey, DT. He was a highly regarded 3 technique who is now used out of position in Kansas City's 3-4 as a DE. Perhaps a second-round pick this year and a conditional next? Also, what if Oakland wants to trade up for a QB? Would Bucs consider it? I'd love to see us do that and get their first and second and Louis Murphy, WR. Then, draft Bruce Campbell, LT, extraordinaire. What say you?

CVal, Nashville, Tenn.

A: Dorsey is a guy that could attract the attention of the Bucs. He's been a washout in KC, but the Bucs have already shown a willingness to pick up ex-Chiefs like Ryan Sims and Jimmy Wilkinson. The Chiefs probably would like to move Dorsey at this point and the Bucs have plenty of ammo to get him. He was highly regarded coming out of LSU and Dorsey may just need a change of scenery at this point. As for trading back from the No. 3 slot, if Suh or McCoy are still on the board it will be tough for the Bucs to pass up either DT. If they're both gone, Tampa Bay would probably be inclined to trade down and gobble up another premium pick in the process.

— eye-RAH! Kaufman 
Joe wouldn't be opposed to such a swap, so long as the price is cheap. Wonder if the Chiefs would be interested in swapping disappointing players from LSU? Someone needs to take Michael Clayton off the Bucs hands.