An Important Reminder
January 6th, 2010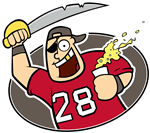 Longtime JoeBucsFan.com readers know Joe bangs out DAILY Bucs news, commentary, video and analysis through the offseason.
The fun never ends.
But Joe realizes he picked up tens of thousands of new readers over the past six months, and he just wants to let them all know the fun NEVER stops here on JoeBucsFan.com.
Joe will serve his readers like never before in 2010. And to all of you, Joe is very appreciative of your continued support.  
Don't forget to follow Joe on Twitter as well as Joe on Facebook to be alerted to great stories and important happenings on JoeBucsFan.com.