Warrick Dunn Was At It Again
December 25th, 2009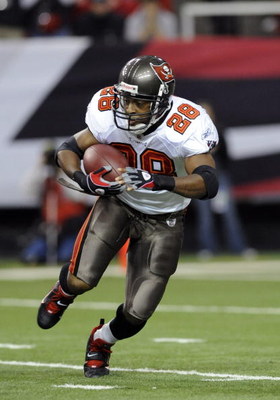 Joe never gets tired of seeing stories like this and he's been saving this post specifically for today.
Joe cannot think of a better human being than former Bucs great Warrick Dunn, the new minority owner of the Falcons.
As he is wont to do, Dunn was at it again earlier this month, buying houses for needy families both in the Tampa Bay area, and in Tallahassee where he went to college at Florida State.
Kevin Smetana of the St. Petersburg Times documents how Dunn helped a Plant City family earlier this month.
Harris, a University of South Florida student, full-time worker and aspiring lawyer, is just the second dad chosen in the program's 12 years.

"This started as flat concrete, and this is what we have now — a home for me and my daughter," Harris said before stepping inside the Plant City house. "I still have a long way to go, but this is going to make it a lot easier."

Once inside, Harris, saw a furnished living room, a flat-screen TV and, in the corner, a lighted Christmas tree. To his right were custom-made stockings hanging on the wall. In all, the home decor totaled $20,000.
What cool Christmas presents those families had.
Joe can't imagine the amount of money Dunn has spent out of his own pocket over the years to buy houses for needy families. If every NFL player did just an ounce of what Dunn has done for people in need, imagine what a better community we'd all live in?