Sitting In For The Big Dog
December 10th, 2009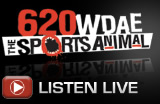 The Dean of Tampa Bay sports radio, Steve Duemig, is enjoying some vacation time today but will return to the 620 WDAE-AM airwaves tomorrow.
His fill-in today is Rock Riley, the guy who chased Jim Bates with a microphone in a fast-food restaurant parking lot while the Bucs were practicing and management was saying Bates was still in the mix.
For Joe, it was Riley's finest hour.