Joe's Second Quarter Thoughts
December 13th, 2009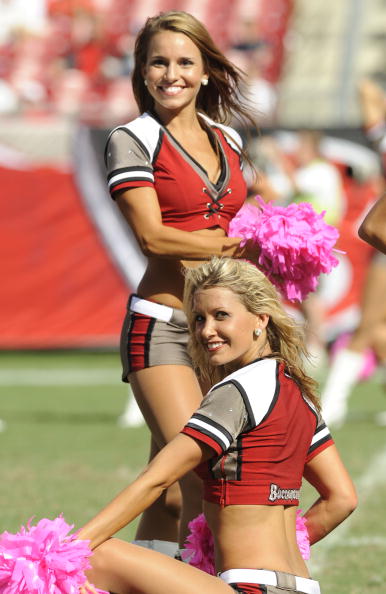 * Joe can't remember the last time a defensive lineman made such a good play that deep on a punt return like Jimmy Wilkerson just pulled.
* Bucs are playing solid defense and it's a crime the Bucs are wasting it with a pitiful offense.
* Styles G. White with the sack!! Joe hopes defrocked defensive coordinator Jim Bates has to beg for fast food lunches with the horrible job he did this year. How many wins did this guy cost the Bucs?
* Not a whole lot of protection there by the Bucs on the Jets sack.
* Oh, if Caddy cuts back on the run after the sack, he had a nice gain.
* Man, Freeman really missed on a wide open Kellen Winslow.
* eye-RAH! Kaufman of the twittered that Freeman is telegraphing passes and not looking off receivers.
* Those Bucs cheerleaders must be hot(ter) and sweaty in those Santa outfits. 🙂
* Dave Moore can't understand why the Jets aren't just pounding the Bucs with the run, wearing down the Bucs defense that can't get a breather from the brutal Bucs offense.
* Nice play by Clemens as he was flushed by the Bucs defense.
* Nice play by Barrett Ruud on the attempted reverse. As great as this Bucs defense has played, it's an absolute outrage how awful the Bucs offense has been.
* Bucs got a break because Kellen Clemens is a moron and could have run for an easy first down.
* Even though the Bucs gave up a field goal, that was overall a solid effort by the Bucs defense.
* Not a bad run by the Bucs up the middle on a strong Jets defense.
* Normally Joe would crucify Freeman but Joe has to remember what a suffocating Jets defense this is. A rookie quarterback who is regressing and who has a penchant for pickoffs against this defense, well, anyone should expect Freeman to struggle.
* Big hole there by the Jets. Dave Moore said that run by Thomas Jones was just a matter of time for the length of time the defense has been on the field.
* Do the Bucs have a first down yet?
* Solid run by Thomas Jones. 16-0 Jets. That should be the ballgame. Seriously. Why should Joe expect the Bucs to score more than two touchdowns if they haven't had a first down with just over three minutes left in the first half?
* Through 29 minutes of football, the Bucs have run 16 plays and have 13 yards. Pitiful.
* Make that 17 plays, 11 yards.
* A complete pass and an eight-yard gain brings out a Bronx cheer. And no Dave Moore, that was not the crowd "getting excited." They're pissed off, as they should be. Imagine paying good money for this shit?
* Even Gene Deckerhoff is unloading on the Bucs offense. How bad is that???
* Say what you will about over-the-hill Bobby Bowden, but even an 80-year old has-been figurehead would have come up with a better offense than this we're watching today. Shit, even Fredo (Jeff) Bowden couldn't do any worse. Just HORRIBLE!
* Look, Joe gives the Jets defense all the credit in the world. They are damned good. But there's no way Joe can give a pass to Greg Olson on this debacle. Not even with a rookie quarterback.
* How bad would this game be if Kellen Clemens was worth a s(p)it?
* Gene Deckerhoff just said in a roundabout way Bucs fans should resume their Christmas decorating than watching this septic tank of an offense.
* The Bucs are booed off the field at halftime and Gene Deckerhoff just said, "as they should be."
* How bad is that when an NFL broadcasting team says live on the air the fans should boo? Wow!