Joe's First Quarter Thoughts
December 20th, 2009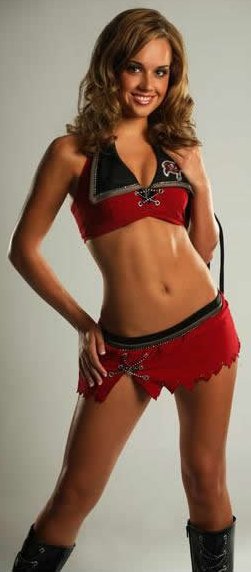 * Nice start by the defense. Third-and-six.
* Strong first series by the Bucs defense. Joe doesn't know if he would call Matt Hasselbeck an "all-time gunslinger" like Gene Deckerhoff did.
* Keep running Bucs. Keep running.
* Dave Moore is all but screaming for the Bucs to stick to the run.
* You've got to be kidding Joe. Another interception on the first thrown. ANOTHER! This is starting to get to be pathetic. Freeman forced that pass with a guy draped all over him. Sometimes — not often — a sack is in order. Kid should have just taken the sack.
* Joe is starting to think maybe Freeman needs to be benched? Problem is, Josh Johnson is worse.
* Joe thinks this jerk T.J. Whoseyourmamma with the Seahawks is a dirtbag and Joe wouldn't lose sleep if he got cheap-shotted by Tanard Jackson.
* Bucs rush defense is playing strong thus far.
* Just when Joe writes that the Bucs defense gets totally gouged for a 34-yard run.
* A fullback is not going to beat Geno Hayes. If the Seahawks are going to use a wheel route like that, Joe suggests they continue.
* Another strong stop by the rush defense.
* Hasslebeck is a moron. LOL No wonder Mike Holgrem retired. That may be the stupidest play Joe has ever seen. Imbecile tries to lateral to an invisible player when he's falling down. Joe can sort of understand if it was the final play of the game and it was a desperate attempt to score, but for a scoreless game in the first quarter, that is beyond dumb.
* Come on Mo Stovall. You've got to make those catches.
* Freeman is beyond rattled. That should have been a second interception. This guy is wild as hell. Nine interceptions in his last three games. Nine!
* The Bucs radio network just stated "Josh Freeman's body language right now is not good." Neither is his passing.
* Can't give Whoseyourmama that much room off the line.
* Old man Ronde Barber still getting the job done.
* Nice tackle Sabby. You should be a bullfighter. Only thing missing is the red cape. Easily this guy is the weakest link on the Bucs defense.
* Now Barber does a Sabby impersonation of a bullfighter. Ole!
* Joe is taking back what he wrote about playing good rush defense.
* Are the St. Louis Lambs winning?
* OMG. Barrett Ruud made a play. More like Hasselbeck's pass hit Ruud in the back.
* Horrible snap and Gene Deckerhoff bellows, "How many Christmas presents are the Bucs going to get today?"
* The Derrick Ward Express continues.
* Figures. Derrick Ward gets a nice gain and there's an illegal formation.
* Sammie Stroughter is easily the best draft pick the Bucs have had in a few years. A steal in the seventh round.
* Now that was a nice pass to Winslow. Helps it was third-and-short. Winslow now holds the Bucs record, besting Jackie Harris, for most catches by a Bucs tight end in a season.
* Good runs back-to-back by Derrick Ward.
* What? Gene Deckerhoff just said that's the longest run in a month for the Bucs. A 25-yard run the longest in a month? That's sorry football.