Ward Hobbled; Caddy Pleased?
November 13th, 2009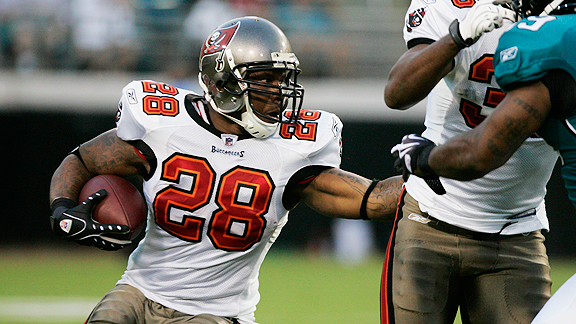 Veteran NFL scribe eye-RAH! Kaufman of the Tampa Tribune updated the Bucs small injury list today and a new name has appeared: Derrick Ward.
Ward joins wounded teammates Antonio Bryant, who continues to struggle with knee swelling, and Stylez G. White, who's battling through a shoulder injury to keep his consecutive games played streak (40) alive.
"Ward's got a knee tweak," [Raheem] Morris said, "but I think he'll be fine. He practiced all week and looked pretty good."
Joe finds it awfully convenient for Cadillac Williams that Ward has come up with a tweaked knee, considering a busy day in Miami for Ward likely would cost Caddy a good bit of cash.
No, Joe doesn't think there are any shenanigans at play. But this further illustrates why players shouldn't be wagering five-figures on their personal stats.