Start Stovall; Bench Clayton
November 10th, 2009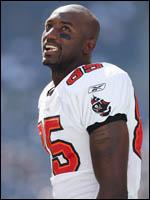 Joe is among the legions of Bucs fans who wonder how 24-year-old Maurice Stovall would fare if he could stay healthy and get some starts.
It's time to find out.
Stovall is averaging 20 yards a catch this season. And his three grabs for 46 yards against Green Bay on Sunday would lead anyone to believe he's got some chemistry working with Josh Freeman.
Finally healthy and coming off a big game, Joe sees absolutlely no reason to keep him out of the starting lineup.
Michael Clayton — like him or not — is a known commodity. He blocks. He drops passes. He doesn't catch touchdowns. He's not a No. 1 receiver or a No. 2 on any good team in the NFL. This is his fifth consecutive disappointing season.
These are facts.
If Antonio Bryant returns on Sunday, which Joe wholeheartedly expects, it's time to sit Clayton and go with Stovall. If Clayton is the team player his coaches and he say he is, he'll deal with it professionally.
This season is supposed to be all about developing young talent, expecially now at 1-7. No reason to keep the leash on Stovall.
Let him start, and if he can't hack it, at least the Bucs will know for sure.