Knock Off The WWE Schtick!
November 23rd, 2009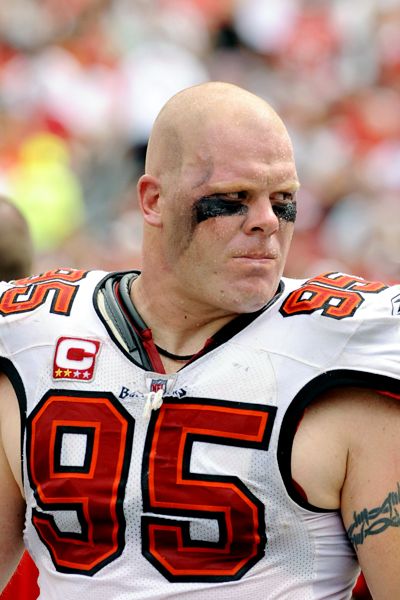 Joe has absolutely nothing against Chris Hovan. Nothing. He's a standup guy.
The few times Joe has spoken with Hovan, the Bucs defensive tackle has always been pleasant and kind to Joe. So this is not a jab at Hovan, the person.
Joe, as he is wont to do first-thing to start the week, is to read Peter King's Monday Morning Quarterback column on SI.com. King had an interesting nugget on Hovan.
Nice camera work, FOX, at Tampa Bay, showing professional-wrestler-lookalike Chris Hovan putting eye-black on his young son on the field before Bucs-Saints.
Isn't this facepaint nonsense getting a bit juvenile? Look, it's one thing if Hovan and his teammates were competing or dominating. Then putting on the facepaint and pretending to be Animal or Chief Osceola would be kind of cool in a weird way.
But the way the Bucs defensive line is getting bitchslapped, well, this facepaint stunt is a joke.
"Yeah, man. I'm going to put the warpaint on and go to battle! This facepaint really brings out the warrior in me! Instead of getting thrown back five yards, I'll only get blasted off the line three yards play after play after play after play like a ragdoll that's been chewed up by the neighbor's mongrel. Oh, YEAH!!!"
Stop! STOP IT! Stop it now! Enough with the facepaint. Worry about your job first and when you start doing that properly, then you can go all Ultimate Warrior on the NFL.
Until then, leave the makeup to the lady who got her face eaten by a monkey.