"Militia Unit Formed, And That Got It Done."
November 24th, 2009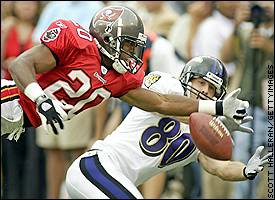 The Tampa Bay market's lone football Hall of Fame voter and nominator, eye-RAH! Kaufman, of the Tampa Tribune, made it loud and clear that the firing of Jim Bates came from the Bucs locker room.
Speaking this morning on 1040 AM, Kaufman said players "got in [Raheem Morris'] ear" this week to protest Jim Bates' scheme.
Kaufman said he asked Raheem The Dream on Monday whether he and his coaches were evaluating themselves as to whether they had the right scheme on defense for their players but didn't get a straight answer.
"I got zero. He gave me nothing. And 12 hours later Bates is history. A lot of players were complaining about that scheme. A couple of players, a militia unit formed, and that got it done," Kaufman said. "A few guys in the locker room told me off the record it wasn't the right system that they can't play in that system."
Then asked by radio host Nanci Donnellan (aka The Fabulous Sports Babe) whether Ronde Barber led the militia charge he referenced, it was Kaufman who didn't respond.
If Raheem The Dream is making landmark, franchise-changing decisions with the help of his players in the middle of the season, that's downright ugly, especially considering the lack of experience on his defense.
These are scary times in Bucs history.