Fins Coordinator Gushes Over Freeman
November 14th, 2009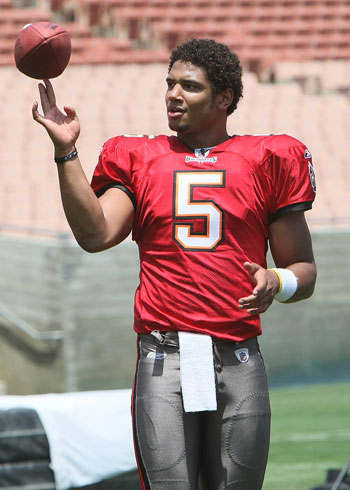 Not much for Joe to set up with these comments about Josh Freeman by the Dolphins' defensive coordinator.
The Palm Beach Post caught up with Paul Pasqualoni, who apparently has a Raheem The Dream like crush on Freeman.
…Pasqualoni has been impressed with the first-round draft pick since he watched tapes of him in college.

Pasqualoni related how he watched Freeman play for Kansas State against Oklahoma his senior year.

"Rolled to his left, got his feet reset, threw the ball down the field, big play. I remember that play." He said it reminded him of two of his quarterbacks during his lengthy tenure as head coach at Syracuse: Marvin Graves and Donovan McNabb.

"With Josh Freeman, things slow down. The guy's gonna have a chance to be a good quarterback. You can't underestimate him because he's a rookie. You're gonna have to play, you're gonna have to cover the receivers, you're gonna have to do everything you do. Last week (against Green Bay), everybody can say they had a short field, they turned the ball over, all that. But they scored touchdowns in the red zone. They weren't kicking field goals. And this guy was making plays. That's a long way of saying we're very impressed with the guy."
Joe can't wait for kickoff.