University Of Louisville After Chucky
October 15th, 2009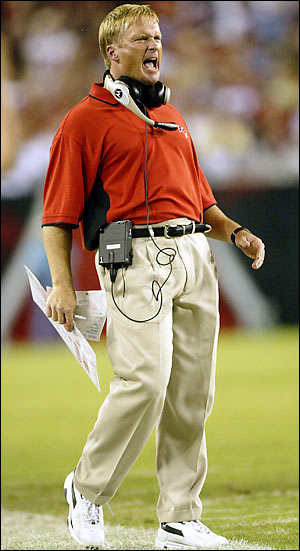 Consider this the first Chucky rumor of the coaching recruiting season.
Michael Lombardi of NFL.com reports that the University of Louisville has Chucky atop its wish list. Oh, and Lombardi also throws in how Danny Snyder, the Redskins tyrant/owner, might also be interested in Chucky.
Gee, where have you read that before?
Chucky coaching in college is borderline nonsense to Joe. Chucky would be an awful college coach in Joe's eyes. He'd be a lousy recruiter and his offense is so complex, it generally takes an NFL quarterback two or three years to digest, much less a guy just out of high school.
Just look how that same offense worked for Bill Callahan at Nebraska.
Lombardi claims in the video that accompanies the above link that Chucky is not as appealing to NFL owners as Mike Holmgren or Mike Shanahan (or possibly Bill Cowher). While Joe would take Bill Cowher over Chucky any day of the week, the more the Bucs continue to suck, the more Chucky looks like a wizard for getting the Bucs to the cusp of a playoff game with virtually the same team.