Raheem The Dream's Fate Not Up To Dominik
October 19th, 2009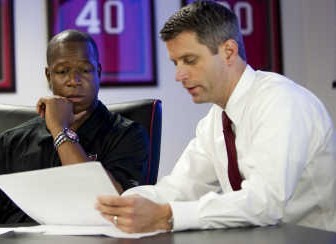 Much was made yesterday of the report Sunday morning that Bucs general manager Mark Dominik did not give Raheem the Dream a vote of confidence. This report was later shot down when Dominik spoke to NBC's Peter King saying Raheem the Dream is safe.
Joe spoke with a number of sources last night who informed Joe that Raheem the Dream's job security, or lack thereof, is not up to Dominik. Rather, Bryan and Joel will determine Raheem the Dream's fate in this nightmarish season.
Then there's the fact Joe irresponsibly overlooked yesterday that Joe has been harping on for months:
So long as Chucky's salary is still on the Bucs books, Raheem the Dream is safe. There's no way Bryan and Joel will pay for three head coaches, two of which (Chucky and Raheem the Dream) would be walking the streets.
Until Chucky has another coaching gig, it's asinine to talk about unloading Raheem the Dream.