Jeff Faine Live Tonight On 620 WDAE-AM
October 21st, 2009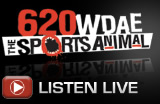 Joe loves good interviews — players who aren't afraid to call it as they see it most of the time and usually bring a very fresh perspective.
On the Bucs, per Joe's scorecard, the best interview spots go to Antonio Bryant and Jeff Faine. Bryant is unpredictable and passionate, while Faine is candid and extremely well spoken.
Tonight on 620 WDAE-AM, Faine will grab the Total Access microphone at 6 p.m. alongside good guy host Scott Ledger to talk all things Bucs. Faine also will take phone calls.
Should be a treat for Bucs fans.