How Will Gaines Adams Develop?
October 22nd, 2009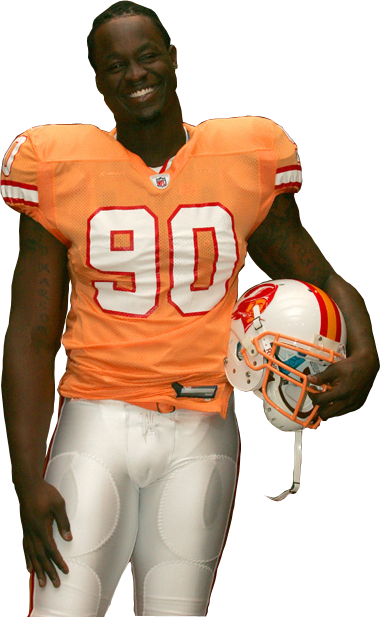 Joe enjoys baseball but the thing Joe hates about baseball is the sport has been hijacked by the spreadsheet warriors.
Joe doesn't know what the hell a player's OPS or an OBGYN is, nor does he care.
Joe's into sports, not acronyms and surely not algebra. Whitey Herzog never needed a calculator.
So Joe grimaces when he hears or reads the calculator crowd try to descecrate football like they have baseball. But sometimes, albeit not very often, it can be enlightening.
Take the guys at FootballOutsiders.com. They did some number crunching to try to estimate what kind of a player Gaines Adams will develop into.
FootballOutsiders.com comes up with a list of nine players who they think Adams is most like. In short, the Bucs just traded Chike Okeafor.
One note is that two of those players (Steve Foley and Peter Boulware) were outside linebackers, and Okeafor would switch to outside linebacker later in his career. Adams is actually five pounds lighter than Okeafor, and he may be better suited to playing outside linebacker in a 3-4. Failing that, it may be in the Bears' best interest to split him out wide and tell him only to rush the passer, as the Colts do with Dwight Freeney. If we look at the top 40 or so comparisons to Adams, Kabeer Gbaja-Biamila's name starts popping up several times, and there's also an appearance by a young John Abraham. Those are two players even smaller than Adams who were pass-rushing terrors out of 4-3 sets.
Joe's not sold that Adams will ever develop into one of those guys. But Joe is more than content that the Bucs got a second round pick for Adams.