Donald Penn Locking Up A Massive Windfall
October 7th, 2009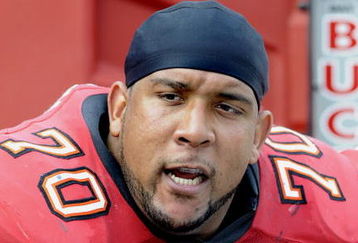 The Bucs' stellar left tackle, Donald Penn, signed a one-year restricted free agent tender offer in the spring for about $2.8 million.
Surely, the Bucs could have locked up the undrafted 26-year-old to a long term deal, but opted to make him prove it on the field for one more season.
As Penn continues to perform at a high level, it seems Mark Dominik, the man credited for snatching Penn when he was released from the Vikings' practice squad, may have lost the financial gamble on the big left tackle.
Speaking on 1010 AM, Bucs center Jeff Faine said Penn is on track to command an absolute fortune this offseason.
"He's playing lights out. He's been playing for a contract for two years now. …We've got some cap room. Don't we? …There's nothing cheap. There's nothing cheap for what he's doing," Faine said of Penn. "When we first got here we were sliding to him quite a bit. We put him on the island all the time now. We lock him down against the best defensive rush out there on the field week in and week out. It doesn't change. …He locks it down every single week. …It's amazing what this guy's doing. He's still flying under the radar, as sad as it is to say."
Joe just hopes Penn stays healthy, keeps up the consistent peformances against the NFL's best ends, and the Bucs don't make the mistake of letting him walk.
Pay the man.