Bull Rush: Signs Of Progress
October 26th, 2009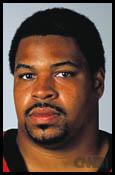 By STEVE WHITE
JoeBucsFan.com analyst
Steve White spent every season of the Tony Dungy era playing defensive end for the Bucs. He's spent countless hours in the film room with the likes of Warren Sapp, Rod Marinelli and more. Joe is humbled to now have White, also a published author and blogger, as part of the JoeBucsFan.com team. Below is White's weekly Bull Rush column that breaks down all things defensive line. It's simply a can't-miss read for the hardcore Bucs fan.
I know it's generally hard to take anything positive away from a 35-7 loss, but I am actually more optimistic now about the Bucs defensive line after Sunday's game against the Patriots than I had been previously this season.
The guys up front really didn't play that poorly and in a few cases played better than average, and I could see this group actually getting better during that game.
The one thing that stood out for me from the start is that for whatever reason the Bucs finally let the strong side defensive tackles put their inside hand down. I can't begin to explain to you just how much something seemingly that small can contribute to improving our defensive line play.
When you have your inside hand down as a shaded defensive lineman you have the ability to meet force with force and push blockers back into the backfield. When you have your outside hand down you are almost relegated to just going laterally with the blocker.
The guy who seemed to benefit most from the change was Chris Hovan.
Hovan has always been an above average pass rusher from inside since coming into the league, but since joining the Bucs and becoming a nose tackle his opportunities had been limited. Now that he gets to line up to the strong side (on the outside shoulder of the guard) a good part of the game he has the opportunity to show those pass rush skills off once again, especially on play action pass.
As the game went on Hovan even got a little tilt in his stance and really started working some moves. Allowing him to put his inside hand down is going to really pay off for us going forward. You could see a difference in Ryan Sims and Roy Miller also when they were to the strong side especially holding up better on double teams. But Hovan, to me, is by far the best pass rusher of the bunch, and so that is why I say most of the benefit will come from him.
By the second half Hovan had his feet staggered and even had a little bit of a tilt, looking a lot like how our strong side tackles used to line up.
I was also very encouraged by the play of our defensive ends. In his second start of the year, Greg (Stylez) White had his second sack of the year and was once again text book in playing blocks with his hands and escaping.
Jimmy Wilkerson dominated the Patriots tight ends for most of the day and was stout playing the run. Tim Crowder showed a lot of flash as a pass rusher at both left end and right end and had a real nice hustle play on a wide receiver screen. Even Michael Bennett got into the act and got a hit on Tom Brady and rushed well in an increased role. All told our defensive ends were some stat sheet stuffers yesterday.
There were still some areas that concerned me, however.
For one, the Bucs still need better rushes on play action pass.
Secondly, while we did have one really excellent "EX" game from White and Hovan (defensive end penetrates, tackle loops outside for contain), which forced a holding penalty, by in large the timing is still off on most of our pass rush games.
Third, I am still not understanding how we can have a three-man rush where Jimmy Wilkerson is not on the field. Any time a team takes their leading sack man off the field on third down there needs to be a very good reason for that and so far I can't come up with one.
And finally we have a goal line defensive alignment that I defy any coach, player, or fan, to show me can be successful against any, if not most, goal line running plays. (I am serious about that, we can get on a chalkboard or in a film room or wherever. But until then you won't convince me that goal line scheme can, let alone will, work.).
But those are all what I would call "fixable" areas.
At this point, its more than apparent that we have enough talent on the defensive line to be successful. What we need going forward is a little more consistency from the guys and a little more tweaking in the scheme and we should be able to take off for the rest of the year.
Emphasis, of course, on SHOULD.