"Smart" To Sit Josh Freeman
September 28th, 2009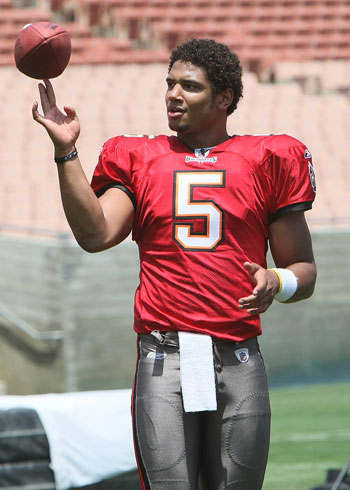 Joe is just waiting for "The Big Dog," Steve Duemig, to begin fielding calls from fans begging for Josh Johnson to start against the even more hapless Redskins.
Joe also wonders who will be the first caller to grovel for Josh Freeman to start?
But the pending quarterback controversy has already hit national satellite airwaves, specifically on "The Opening Drive," with Bob Papa and Randy Cross on Sirius NFL Radio Monday morning.
Papa, who is the voice of the Giants, had a first-hand view of the trainwreck the Bucs have become. But not even he's psychotic enough to suggest Josh Freeman should start for the Bucs.
Josh Johnson? Maybe.
Papa asked Cross what he thought of the Bucs quarterback situation and while he understands the cries for a quarterback change, doesn't want to see Freeman punished, physically or mentally.
"What is your take on what Tampa is doing with Josh Freeman?" Papa asked rhetorically. "He was the third quarterback yesterday. Josh Johnson moved them on a meaningless drive. Leftwich looks horrible. He looks like a pitcher winding up in baseball. I get what they are doing with Freeman based on how bad the team is.
"If they start Freeman later, I've got no problem with that. They aren't winning anything with Byron Leftwich at quarterback."
"What is their style?" Cross asked. "They fired their offensive coordinator and they never had one at the opening.
"They think a lot of Freeman. They think so much of him they don't want to expose him to what is going on. They want him to sit and watch. It may be through the bye, it may be halfway through the season, it may be three-quarters through the season.
"Josh Johnson is very athletic and an extremely sharp guy. He may be the answer short term to let Freeman grow. Remember, he came out after three years and he didn't have unbelievable results or any fantastic statistics. He is completely different to me than [Jets quarterback Mark] Sanchez or [Lions quarterback Matt] Stanford. Completely different. He's at least a year behind them. He needs at least a year of seasoning.
"Do you want to subject him to that? I don't think so.
"Jon Gruden thought the world of Josh Johnson. Freeman is not anywhere near a finished product and it's smart to sit him."