Leftwich Not Ready For Line Calls
September 19th, 2009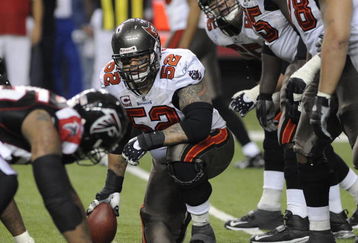 Back in April, injured Bucs center Jeff Faine was annoyed because the team's new offense was stripping him of his offensive line call duties and placing them with the quarterback — hardly uncommon in the NFL.
Barking out pre-snap reads and positioning changes would fall to the guy with the birds-eye view walking up to the line of scrimmage, rather than the Notre Dame grad under center.
But on Friday, speaking on 1010 AM, Faine said "that transition has not happened yet."  He referenced Byron Leftwich is still in a learning curve with the new offense and that the center will keep that role for now.
Joe was a bit puzzled by the delay in the transition. Leftwich is a veteran. What's the problem?
For now, the Bucs' greatest challenge on offense is the loss of Faine, whe had high praise for his fourth-quarter fill-in last Sunday, rookie Jonathan Compas.
Faine said his tricep is "shredded" and he's just grateful because being "out 3-6 weeks is a better alternative than the entire season."
Joe can't help but wonder how the timetable of Faine's return might affect the debut of Josh Freeman. Joe doubts Freeman would make a start before Faine is back on the line.