Joe's Third Quarter Thoughts
September 13th, 2009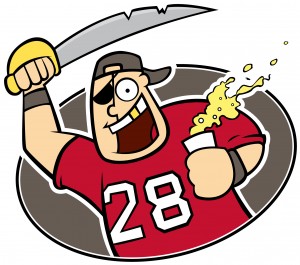 * Dave Moore said if the Bucs continue to run, especially the way it's raining, they will take over the game.
* What a shock. Training camp warrior Maurice Stovall can't haul in a pass. To be fair, it was a tough catch he nearly got.
* Joe is getting the feeling the Bucs better stop Dallass now.
* Geno Hayes again. Derrick Brooks must be smiling. Wonder where Brooks is right now?
* Uh, oh. Now the Bucs are down two touchdowns. This isn't good. Dave Moore is ripping Sabby Piscitelli, claiming the touchdown was blown coverage by Piscitelli who is having a pathetic game (remember that dump roughing the punter penalty with Dallass backed up deep in their territory?).
* With 11 minutes in the third and down two touchdowns, is it too early to give up the run? Dave Moore doesn't think so.
* Not good. Quick three and out and Dallass will get decent field position. This could quickly turn to a blowout. Bucs defense needs to man up right here with just under 10 minutes left in the third.
* Bucs are getting pressure on Romo but he's getting rid of the ball so well. No chance to get a hand on him. As a result, he's carving up the Bucs.
* Geno Hayes on the blitz!!! Bucs sorely need to get their defense off the field.
* OK, Bucs have decent field position. Bucs need points here.
* Not good. Third and long right out of the gate.
* Damn. Punting after three and out. This is not good. The Bucs were to use the heat in their favor but how can they with the defense on the field all the time?
* Joe fears if Dallass scores here, it's game, set match.
* Nearly got to Romo on that short pass despite no blitz.
* Critical third down here for Bucs defense. Can they come up big?
* Is it Joe's imagination or do the Bucs defense seem to be wearing out? Not a surprise since the Bucs offense is spinning its wheels thus far in the second half.
* Another third down. Does Jim Bates bring the house?
* Great pressure on Romo. There were receivers open but Romo was flushed. Nothing beats a strong pass rush. Nothing! It covers up a lot of warts elsewhere on the defense.
* Bucs NEED to get a couple of first downs on this drive. Desperately.
* Derrick Ward plows through for a first down. Great!
* Joe's good friend Justin Pawlowski of WDAE-AM 620 noted how Leftwich fumbles in over half of his starts. Happened again but Bucs dodge the bullet.
* Keep the ball on the ground Ra*'!
* What the hell kind of a throw was that??? Bucs dodge another bullet. Com'on Leftwich, you know better than that. That was an insane throw, that jump pass.
* Too much mustard on that pass to Stroughter from Leftwich. But why pass? Where's Cadillac?
* Impressive shot that Clayton took on that catch. Most receivers would have been blown up. Instead, Clayton was the guy dishing out the punishment. Nice!
* Bucs radio network just reporting that Clayton needed an IV earlier due to dehydration.
* SAMMIE STROUGHTER!!! Joe said back in April this guy was a steal. Dave Moore claims the Bucs used a bunch formation which they never used in the preseason.