Is Raheem The Dream Calling Plays?
September 4th, 2009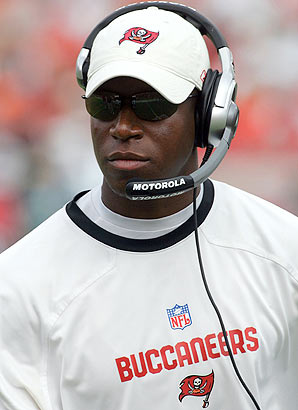 Maybe new offensive coordinator Greg Olson is a polished brown-noser.
Maybe Olson is angling for a new contract worthy of an offensive coordinator.
Maybe Raheem The Dream wants a big hand in the offense.
In a largely benign postgame interview on the Buccaneers Radio Network, Olson was asked about his preference for calling plays — on the sidelines or up in a booth above the field.
Olson talked about how he is comfortable on the field but has called plays from both locations. And then he said, "I kind of feel comfortable being next to Raheem and getting a feel for what he wants."
Joe put down his Caybrew and perked up.
First, Olson surely could communicate with the head coach via headset. But Olson specifically talked about being alongside his boss to get his feedback.
 Odd, for sure.