Cowboys 34, Bucs 21
September 13th, 2009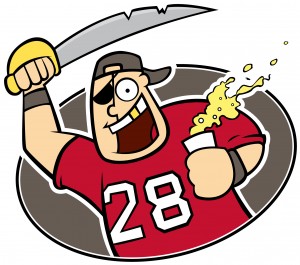 Sad opening-day loss by the Bucs. Hang out here, much more to come. Now, Joe's thoughts on the final quarter.
* Freaking Piscitelli!!! Dude got fried again, biting on the pump fake allowing Romo to connect on his longest touchdown pass of his career. Terrible play. When Tanard Jackson returns, this Piscitelli needs to sit.
* Maurice Stovall finally does something in the regular season!
* With 10 minutes left, Dave Moore still thinks the Bucs should just run the ball because they are so effective, they will keep the ball out of Dallass' hands.
* Just before the Bucs went for it on fourth down, Dave Moore noted that Bryon Leftwich is totally shot, likely drained from the heat. Joe was under the impression playing in the searing Florida heat was supposed to be the Bucs advantage, that Dallass was suppossed to be wilting, not the Bucs. So far Clayton needed an IV and Leftwich is out of it. What gives?
* Piscitelli again burned. Get his ass out of there!
* More injuries: Jeff Faine has an injured elbow. Jeremy Zuttah has a bum ankle but is still playing. Sammie Stroughter has an injured shoulder and is heading to the locker.
* Bucs not only are getting beat, they are getting beat up. So much for being violent.