Normal Rockwell Comes To One Buc Palace
August 13th, 2009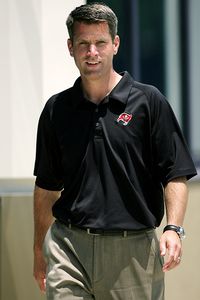 Joe regrets not posting this earlier.
Joe tries to be the eyes and ears of Bucs fans when he goes out to One Buc Palace. He also tries to bring his camera when he can, despite it being an idiot-proof camera (one of these days Joe's going to buy an SLR camera).
Tuesday Joe forgot his camera. He's still kicking himself in the rear end as a result because Joe saw one of the coolest sights as he was leaving.
Just a few minutes before, the west practice field at One Buc Palace was the scene of controlled chaos; registered violence. Players were smashing into each other. Players and coaches and to a lesser extent, fans, all but melted in the searing August heat.
But now practice was over. A few players hung back to sign autographs. Lightning flashed just to the south while the still burning sun was beginning its slow descent into the west.
What was a noisy practice with Jim Bates screaming turned silent. The practice fields were empty but for two people.
Right in the middle of the west practice field, Mark Dominik was playing football with his son Davis, who from the looks of things couldn't be more than three-years old. A little tyke.
Dominik was handing the ball off to his son who would rumble for maybe five yards which for his size would be like Joe running for 50 yards.
Davis would run back toward his dad and then try to heave the ball to him. Naturally Dominik caught the ball just above his toes. Then it was time for a pitch out to Davis and another burst down the sidelines.
It was very much a Norman Rockwell moment. And Joe's camera was in his truck.
Most fathers and sons have to use the back yard or a park to toss around a football. Dominik and his son got to use an NFL facility. How cool is that?
It was a moment Davis likely won't remember in a few years.
It was a moment Dominik likely won't ever forget.