Faine Speaks With Sears "Here And There"
August 14th, 2009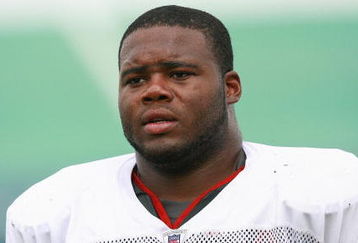 The mystery of Bucs (?) offensive lineman Aaron Sears continues to befuddle, but his teammate (?) Jeff Faine may have shed light on the situation.
Speaking with Tim Ryan and Pat Kirwan of Sirius NFL Radio's "Movin' the Chains" Thursday at One Buc Palace, Ryan bluntly asked Faine what was up with Sears and if he communicates with him.
Faine admitted, yes, he has spoken with Sears "here and there" since Sears moved back home to Alabama. Then Faine said something that was rather curious and in Joe's eyes pretty much closed the door on him ever wearing a Bucs uniform again.
"We are just hoping that everything works out in whatever he wants to do?"
At best, that's not much of a ringing endorsement of a guy who has a passion for playing in the NFL, no matter the reason for his absence.