Derrick Brooks' "Shadow Is Still Here"
August 11th, 2009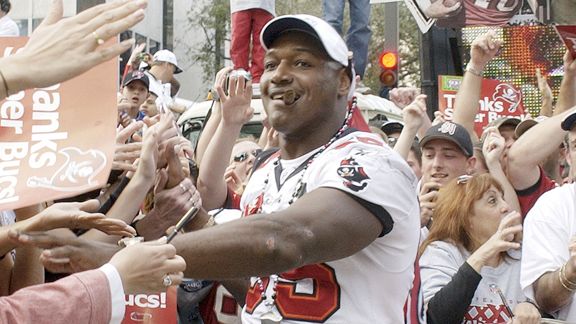 Since Derrick Brooks is still waiting by his phone for an offer to play from some NFL team, he's not exactly bored. Seems as though he is still helping his now ex-teammates.
Yesterday in his "Postcard From Training Camp" on SI.com, Damon Hack reported from One Buc Palace that Brooks not only still keeps in touch with Bucs defenders, he's texting them tips on what they should be doing.
For a player no longer with the team, Derrick Brooks remains a teacher and a motivating force for the Buccaneers. He spent 14 seasons in Tampa, becoming the face of the franchise, and he still gives information to his former teammates. "He texted me the night before camp," Ronde Barber said laughing. "He was like, 'You need to tell the guys this.' I was like, 'He's still here. The shadow is still here.' We all love Derrick. He's still involved."

Linebacker Barrett Ruud calls Brooks "The Don." "The Don actually texted me," Ruud said. "Our trainer, Todd Toriscelli, was saying how there are heat warnings and how Derrick used to wear rubber suits under his pads. The Don taught me well. I still think of Derrick quite a bit."
What can Joe say about Brooks that hasn't been said already? What a total class act. Brooks, the way he was let go, had every right to harbor ill will and basically tell the Bucs to take a long walk on a short pier.
Instead Brooks, who was offered a non-playing job by Bryan and Joel just hours after he was released, decided to take the high road and works with his ex-teammates trying to help them be the best players they can be.
This guy Brooks is really something special.