Inside The Glazers' Minds
July 4th, 2009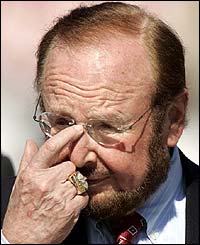 Joe gets a chuckle sometimes when media types get so disconnected from bottom-line reality that they write things lacking old fashioned common sense.
Michael Lombardi penned a long column yesterday about the Glazer Boys and their changed plan for the Bucs and his admiration for said plan.
I admire the Glazers' willingness to make a plan — and their willingness to learn, to change and to understand that in the NFL, it's not always about spending money. It's about spending wisely. …

It's a plan, I'm sure, that's based on the Glazers watching how successful teams in the NFL operate. The Glazers are the type of owners who observe and learn — they're successful in their other businesses for a reason. They entered the NFL with an idea of how things operate, but they've adjusted their plan now that they've learned how things really operate.
Joe isn't buying Lombardi's whole premise: that the Glazer Boys are so obviously doing the right thing for the franchise and have a master plan in place.
Joe is much more of the mind that the Glazers are in money-saving mode, giving an unproven yet promising head coach and GM a shot before returning to their preferred path: a big name head coach.
These are the same guys who pursued Bill Parcells relentlessly, and have watched his success. And the same for Jon Gruden.
Joe, of course, is pulling for the 2009 Bucs but believes the Bucs likely would jump at the opportunity to land Bill Cowher, Mike Holmgren or Mike Shanahan next season if this season goes awry, especially if Chucky returns to coaching and gets off the team payroll.
Slumping ticket sales are another factor in the equation. And the Glazer Boys know a big name coach would sell more tickets than 99 percent of the possible big free agent signings this offseason.
And that new head coach is less expensive and comes without a signing bonus.