Two Dogs; One Bone
June 12th, 2009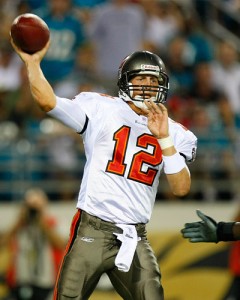 The Bucs bedfellows at Pewter Report have transcribed an interesting interview with Greg Olson, Bucs quarterbacks coach.
Olson, Jeff Garcia's old buddy and a somewhat surprising holdover from the Chucky administration, makes it painfully clear that only Luke McCown and Byron Leftwich are competing for the starting quarterback position, despite Raheem The Dream's "five dogs; one bone" comment. 
The pain Joe is feeling is for Josh Johnson, a good kid who has gotten caught up in the empty promises and cutthroat world of the NFL.
Is it uncomfortable not having a clear cut number one quarterback?
Olson: "Not at all really, that is the nature of the business. They've all been through it. Luke has been through it when he was in a quarterback competition before not just in Tampa but in Cleveland as well. Byron [Leftwich] has been through it before, so they understand the situation. The new guy Josh Freeman he is really the guy because we are finding a number one between Luke and Byron, I wouldn't say that it is stunting his growth but he's not getting the repetitions like he would if we had a clear cut starter like we did a year ago, and he would be getting all the number two reps. Now he's the guy that is why we try to do the extra practice or extra period at the end of practice to make sure he gets the reps that he would've normally gotten if we had a number one quarterback.
In the interview Olson also playfully touches on Leftwich's slow delivery and poor athleticism. This is why Joe continues to pull for McCown in the QB derby because he potentially can do more positive things on the field.
But may the best player win the job, take the Bucs to the promised land, and turn bust-in-waiting QB Josh Freeman into a mere afterthought.