The Josh Freeman Timetable
June 25th, 2009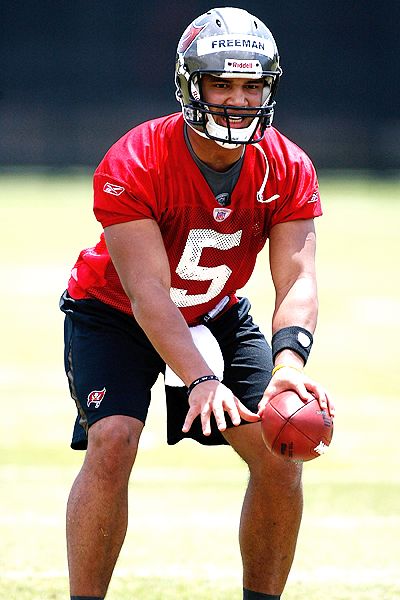 Yesterday Joe brought you video of multimedia specialist Pat Kirwan speaking on CBSSports.com about the prospects of Bucs quarterback bust-in-waiting Josh Freeman becoming a starting QB.
Well, Kirwan has put fingers to keyboard and typed up his thoughts on NFL.com.
The Buccaneers have to play the NFC East this year, and all four of those games come before their bye. Last year, the NFC East led all divisions in the NFL with 173 sacks, or one every 11.8 passing attempts. Albert Haynesworth, a big free-agent addition by Washington, is now part of the division and Osi Umenyiora returns to the Giants after missing last season due to injury, meaning the pressure will be intense. The Eagles (No. 3), Cowboys (No. 5), Redskins (No. 7) and Giants (No.  Eight) were all ranked in the top 10 in pass defense a year ago, and asking Freeman to face those four teams in the first five games of his career would be tough. After all, he threw 34 interceptions in 32 college starts.
If Raheem the Dream throws Freeman to the wolves in the first half of the season, folks, this will be brutal and may in the long run cost The Dream his job.
As Joe has pointed out previously, The Dream's success with the Bucs is on Freeman's shoulders. If Freeman blows up, so too will The Dream's days in Tampa Bay. Having the rookie go up against the Cowboys, Giants, Redskins, Beagles, Panthers and Patriots, that would be brutal.