Running Backs Will Be The Key Element
June 26th, 2009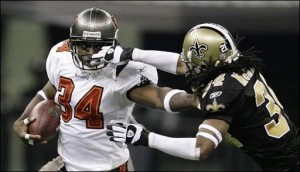 The heck with the quarterback and the apparent quest to add a veteran wide reciever.
The key to the 2009 Bucs offense will be the running backs, so says Bucs general manager Mark Dominik.
Dominik talked about the focus on the running game and the zone-blocking scheme on The Sports Animal, 620 WDAE-AM, last week.
JoeBucsFan.com analyst Bob Fox takes a look at some of Dominik's quotes and offers a refresher course on zone blocking. Click here to read it in the Features section here at JoeBucsFan.com.