Minicamp Talk
June 17th, 2009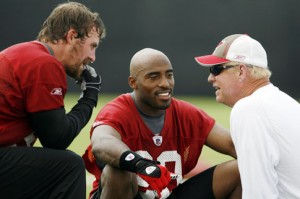 Buccaneers.com has been working overtime of late. The good people there posted videos of press conferences held by Bucs defensive coordinator Jim Bates and Raheem the Dream after Tuesday's practice.
Bates noted that morning drills were about individual techniques and the afternoon sessions were about team drills. Bates is happy that Barrett Ruud showed up.
Raheem the dream was positively geeked. He talked about all sorts of subjects from Barrett Ruud to Derrick Ward to Jeremy Zuttah to the practice schedule. He also lusted again over NRA spokesman Plexiglass Burress calling him "a ghost."
Lastly, Scott Smith profiles Ward and Ruud.