Kellen Winslow Talks To Joe
June 23rd, 2009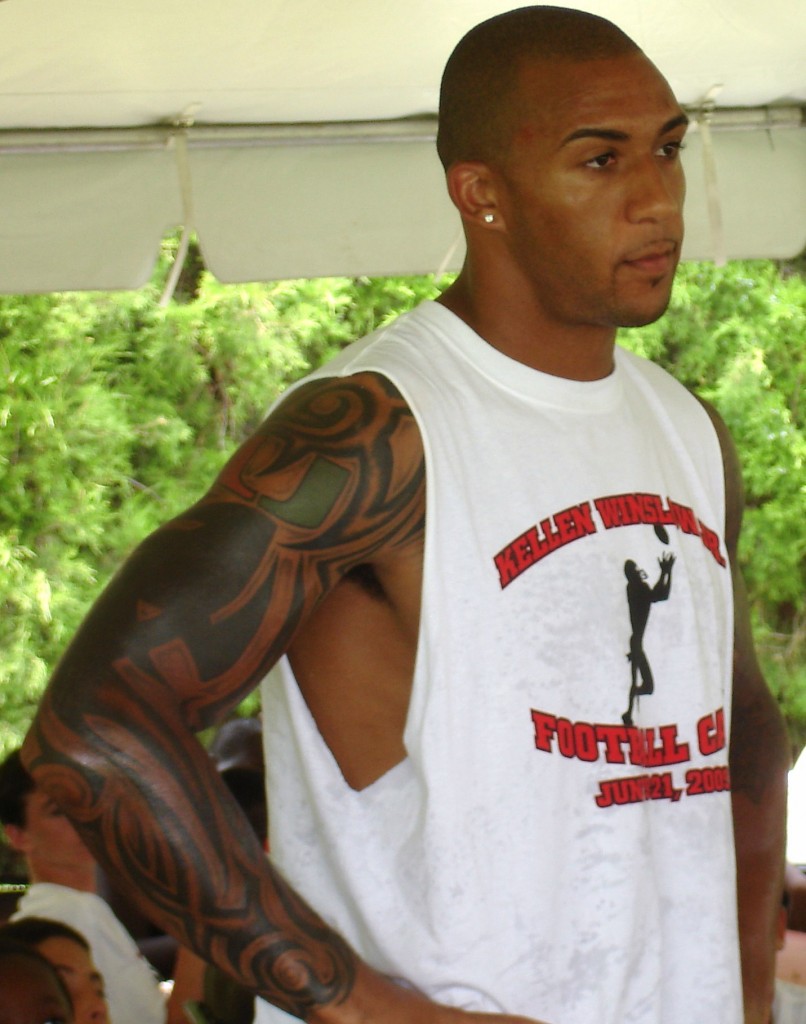 Sunday, Joe visited Kellen Winslow's youth football camp at One Buc Palace, where the Bucs new tight end (and his wife, Janelle) were gracious enough to answer questions from Joe.
Joe: How did this camp come about? Did the Bucs initiate it or was it your idea?
Winslow: This is something I did last year in Cleveland. I'm here now so I wanted to do it in Tampa. I just want to give back to the community and this is the first step.
Joe: It's interesting what you are teaching the kids, especially the things off the field like looking people in the eye and paying attention in school. The little things off the field add up to big things just like on the practice field.
Winslow: Little things do add up to big things. This isn't just about football. This is about things off the field and how to handle yourself as a man and as a human being.
Joe: What type of activities are you going through with the campers?
Winslow: Just drills and fundamentals that they would do on the practice field and we try to simulate that.
Joe: What are some goals you hope the campers come away with?
Winslow: I hope what they get from it is that I hope they can look someone in the eye and shake their hand.
Joe: It seems like you are happy that you are back in Florida. Is there some vibe with the team that people on the outside aren't aware of?
Winslow: Yeah, it is kind of like playing in Miami again. The players are so much fun and the head coach is so much fun. It's just a different atmosphere. I am happy.
Joe: Joe's going to throw out some names and you tell Joe what pops in your head. First, Byron Leftwich?
Winslow: He gets rid of the ball. He has a strong arm and he's real smooth.
Joe: By the way, did you hear how Leftwich described himself? He said he's not the slowest quarterback in the league. He's just the slowest black quarterback in the league.
Winslow: (Laughs). No, he is. I believe he is the slowest quarterback in the league. (Laughs).
Joe: Luke McCown?
Winslow: A leader. He just needs his chance. You'll see what happens.
Joe: Josh Johnson?
Winslow: (Smiles). He's my man. He is real athletic. He just needs his chance. This is just his second season.
Joe: Joe understands that Josh is a really smart guy, a real intelligent player.
Winslow: I don't know. I haven't been around him long enough. But he probably is.
Joe: Josh Freeman?
Winslow: He's the black version of Ben Roethlisberger. Really. Yeah, he's a pretty big dude.
Joe: Do you have any concerns about playing with a rookie quarterback? Let's face it, you want the ball. Leftwich and McCown likely can get you the ball. If Freeman starts, there will be a transition period, a learning period. He's going to be seeing stuff he's never seen in the Big XXII. Are you OK playing with a rookie quarterback?
Winslow: You know what, it depends on the guy. It depends on who it is. If you have a guy like Peyton Manning, obviously he's going to be ready. It just depends on if the guy is ready or not.
Joe: Joe has heard you interviewed on various radio shows and TV shows since you showed up in town. Joe gets so motivated hearing you he wants to go out and tackle people but he doesn't want to get arrested. Have you ever thought about being a motivational or inspirational speaker when your NFL days are over?
Winslow: I say what I feel man. But I kind of want to be a coach. I'd like to teach kids like high school I think. High school might be the best for me. But [speaking]? I might do.
Joe: Joe has seen pictures of you and Janelle on the red carpet and you dress sharp. It's like you stepped out of GQ. You've got some neat threads. Do you have a tailor or do you buy off the rack?
Winslow: That's her (points to Janelle). Oh, she takes care of it. She takes care of me.