Former Bucs Great Honored
June 21st, 2009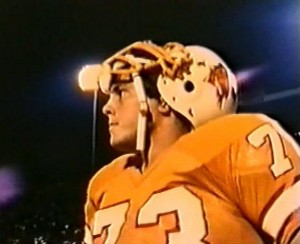 Earlier in the week, Joey Johnston, writing for TBO.com, had a feature about former Bucs great Charley Hannah being inducted into the Alabama Sports Hall of Fame.
Hannah was part of three Bucs playoff teams in the late 70s and early 80s and also played for Bear Bryant at Alabama where he thought he was going to be thrown off the team for fighting in practice (Joe guesses helmet-wielding Aqib Talib wouldn't last very long with Bryant). Rather, reading between the lines, Bryant, ever the master of mind games, used the episode as a motivational lesson.
Bryant had a huge presence at his monstrous desk. Hannah sat on a small couch – with sawed-off legs and broken springs – that made Bryant seem like a giant.

As Hannah tried to explain himself through whimpering sobs, Bryant stopped him short.

"You know, Charley, Alabama can have a football team without you on it."

Hannah thought he was done, but another assistant stood up for him and said he'd simply need some post-practice conditioning. The extra running kept going all season, until just before Alabama's bowl game.
The drama of Hannah's honor hit home with the former Bucs great when he toured the Alabama organization's museum.
As Hannah studied some of the athletes already enshrined – Bear Bryant, Bo Jackson, Joe Louis, Willie Mays, Jesse Owens, Hank Aaron – he had an immediate question.

"What in the world am I doing here?"
Joe would like to congratulate Hannah, who Joe has never met. But Joe has met his daughter Kimberly, who works in the Bucs public relations office, and has graciously helped Joe from time to time.
Call her a second generation Buc.